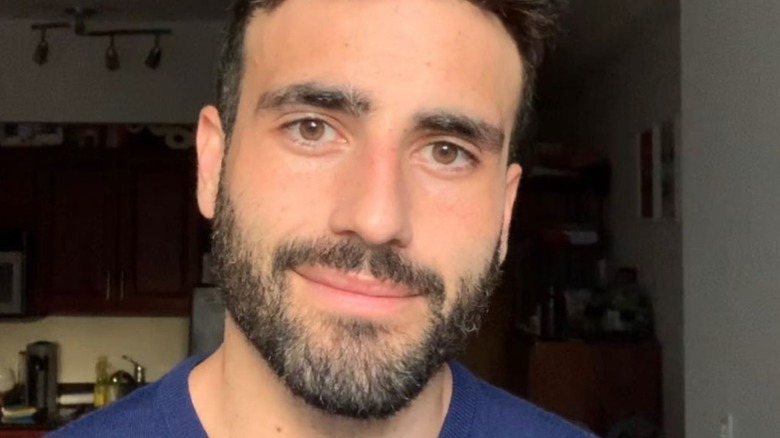 Let's be real: Celebrating queer pride should be a year-long activity, but for now we have Pride Month to get us through, as well as queer artists like Lil Nas X and Halsey making music that resonates with listeners of all ages and digital content creators producing more queer-centered videos than ever. Naturally, everything comes together around June each year in a celebration of innate love and beauty.
Among those celebrating this month is Rob Anderson, the creator of the hit TikTok series "Gay Science," which has taken off on YouTube and Instagram as well. In his video series, Anderson — who's worked with the likes of Kim Petras and professionally studied comedy — extrapolates on the science behind why gay people do what they do, and it resonates with viewers in real ways. After all, the content creator has over 2 million followers on TikTok because of it.
Following his massive success, Anderson has branched out into live comedy shows and music. As a matter of fact, his debut single, "Nothing For You," released on June 1, has not only kickstarted his music career but also has helped kick off Pride Month 2022. The track blends his humor with serious artistry, proving that everything Anderson does lends to his overall success — and that his personality is infectious. It may just be one of the best pop songs for this summer.
We at The List were lucky enough to chat with Anderson ahead of the release of "Nothing For You" to talk about his entry into music, as well as the success of "Gay Science" and branching out into his live shows — and the difference between his videos and live shows may surprise you!)
How 'Gay Science' started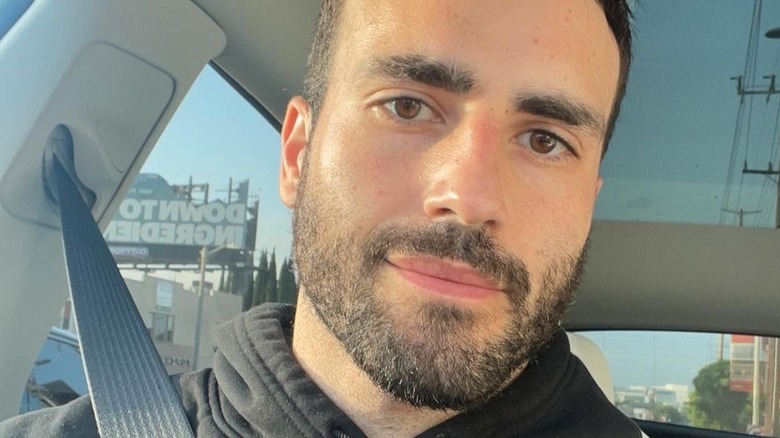 What can you tell us about how "Gay Science" formed and how it's resonated with people?
I had wanted to have fun with some of the stereotypes that exist about gay people. Because [the tropes] are silly, right? Some of them are so ridiculous [it makes you wonder] where did some of this come from — like the bad drivers and why we love ice coffee. But they're kind of true.
Yeah. A little bit!
I thought I would put them in the context of a video where I made them 100% real with fake science. And initially it started with the video about iced coffee, not really thinking it would be a series of any sort. But people really resonated with it. They understood the ridiculousness of it, and so I kept doing it and having fun with it. And that's how it was born.
Would you say a large portion of the viewership is queer people resonating with it and sort of understanding the stereotypes that these are based on?
Totally. It's almost 100% of the audience for it. I first started out with things from my own experience as a gay man. And then as those started to pick up on TikTok, there were a lot of bi, queer, lesbian interests. Like, "Oh, why don't we have one about us? We want one about us." I was thinking, how would I go about making one of these videos if I don't have that experience? You don't want to offend someone, but you want to make sure it's accurate. After doing some research and hanging out in some communities, I started to make [videos] like, "Why do lesbians love board games? Why do they stay in and play board games?" And they were hits. People want to have fun with their own identities and not take themselves so seriously, and the queer community has really embraced it as a whole.
I've seen it grow and it's been really great. What can you speak to in terms of how the series has evolved over time?
I have done a lot of different topics. As time has gone on, [I've] really added a lot to [looking at] facts in "Gay Science." I've had over 35, 40 different episodes and developed them into longer-form shows that are about five minutes on YouTube, or integrated them into a live show that I'm doing as well. So it's become a bit of a brand for me by having so much content around it, and it's very exciting.
Rob Anderson's favorite 'Gay Science' video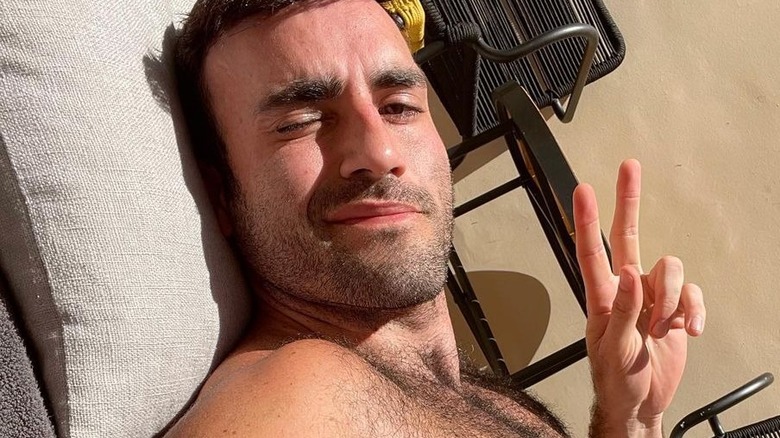 I do want to talk about your tour, but also, out of my own personal curiosity, do you have a favorite "Gay Science" video that you've done?
I have a few I love, and I want to know what yours is, if you have one.
Ooh, okay.
I love the one about teachers and why gay boys are female teachers' favorites. I had a lot of fun with that one, and it really resonated with me personally. And the one where, if you have two gay people who are working together, they are either best friends or enemies. I used science to show [the proof], there's a chart with that one. Those are some of my favorites. Also, you do not have to tell me what one of your favorites is, I was just curious.
I do love the one about working together. I also love iced coffee because I used to be a barista. I get it for myself, but also for all the customers. I don't even know how to describe it, but it was a very real situation.
I love that. Yeah, I love that one too. Thank you.
We should talk about your tour, which is really exciting. What can you tell us about the tour, and what can viewers expect to see?
That's a great question. There's no video of me performing live anywhere, so some people would probably not really know what to expect, so I'm glad you asked that. I have personal stories and fun sketches and songs that I want to perform, but they're not well-suited for the internet because of the explicit content or they're better-suited for a more intimate space in a comedy club where they would land better. I've been collecting those things over the last year or two, and I hit a point this year where I said, "[I'm] ready to start seeing if people enjoy this." I had my first show in L.A. a few weeks ago and people really liked it. So now I'm getting a few more dates together and preparing myself for a fall/winter tour where I'm going to hit up at least a dozen different cities so people can enjoy it.
Where Rob's inspiration comes from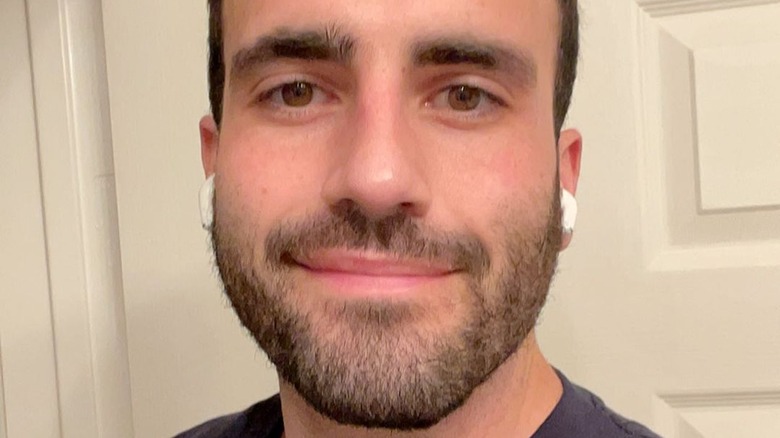 Whether for tour or a video, how do you know when a topic is perfect?
Usually, if it violates community guidelines, I've tested it and tried [it] on TikTok [laughs]. Even saying the word "lube" on there, they axe [the video]. Also, it depends on what kind of content it is — what you're putting out, who sees it, and who's offended by it. So I've kept [content] around that platforms won't remove. And, for me, that is where the line is. Anything else is better suited for a live show where I don't have monitors.
That's really interesting, especially on TikTok where they seem to have stricter guidelines compared to other platforms.
Yeah, they do. I'm not always an explicitly-minded person — I'm not thinking about adult content constantly. So it's helped me move into other parts of my creative brain sphere that [I feel] a lot of people might enjoy. [Such as] storytelling moments in history, like female serial killers from the past who had to kill to almost survive and make money and feed their families. I told a bunch of those stories on TikTok because I was trying to find new things, and people enjoyed that. I'm kind of glad that TikTok kept me in a lane so that I could think of other things to [cover] that people would enjoy.
That's really interesting. In that same vein, are there specific topics that you'd really like to explore in the future that you'd be willing to tease?
Similar to how "Gay Science" talks about gay stereotypes, I was looking to explore straight stereotypes. It's funny because they don't exist ... but they do. I want to discover how real they are and take a more investigative approach. Similar to how "Gay Science" is a fake science show, I want to do a fake investigation show to see whether these things that straight men do are real or not.
That is hilarious. This definitely needs to be a series.
Thank you. I needed that from you to really get me going on it.
A move to the television screen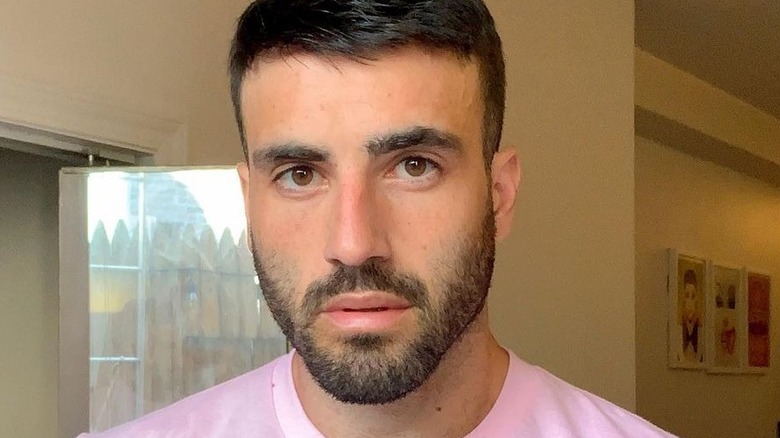 You're starring in an episode of "Book of Queer," a series about gay history that tells the stories of gay heroes throughout time. What can you tell us about the episode you're in?
It was such a fun production. The show itself is very new [and] well-produced ... On any streamer or network, there really isn't a gay show like this, and you can expect from this episode I'm in ... well, I haven't seen it. But the director was so fun had me improvise a lot of the lines, which I wasn't expecting. We shot for 10-minute, 15-minute takes of me just improvising. So I don't know which takes they'll eventually add to the final cut, but I can promise that it'll be funny, historically accurate, and sexy, like a stupid kind of hot.
I love that.
I play a Greek guy. I want to say his name, but it's so Greek that I'm going to mispronounce it.
Can you tease which gay heroes throughout history were in your episode?
Each episode takes different stories, about three stories, and tells them and then ends in a musical number. Betty Who has a music number in my episode. It's so cool. It's a very gay, fun show that [people] might learn something from.
Rob Anderson's favorite music artists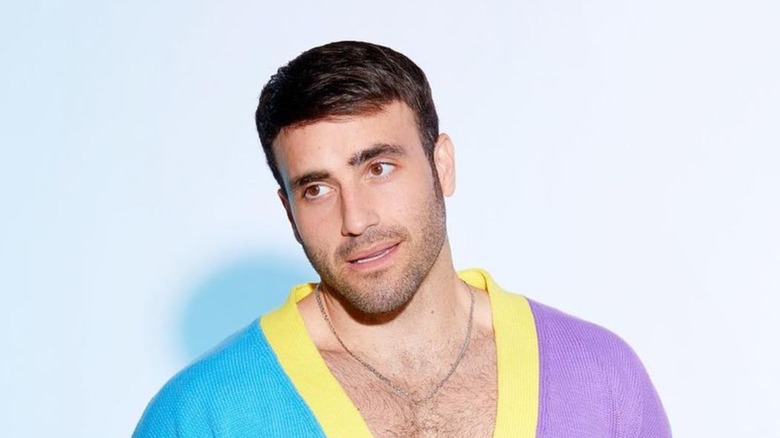 You're also releasing music. What can you tease us about your debut single?
I co-wrote a song that comes out June 1. It's the first song that I've ever written, and I wanted it to be silly, I wanted it to have fun with itself. It's called "Nothing for You." It's my version of a pride anthem where, typically during [Pride] Month, we fight for our rights and stick up for the rights we have and for others, which is a very serious thing and very needed. ... I wanted to have a song that says, "If you are so hot, you can take away my rights. You can reduce me to nothing. You can do anything to me. You can have my assets, you can have my family. You can be my conservator. I am your furniture." And really go down this hole of like, "I can be nothing for you." That's the song that we wrote, and it's a blast. It doesn't take itself too seriously ... gay people want that.
Yeah, absolutely. There's this gay musician I love named Link Lauren, and honestly your song gives me his synth-pop vibes. Who were your inspirations going into it?
The songwriters that I worked with, Sam Creighton and Will Jay, and the producer Zach Djurich — they are very experienced songwriters and producers. I had a great team of people to work on this with me. I came with the idea of what I wanted to write and some of the lyrics, and they helped me put it into the exact kind of pop song that I thought this should be. So I worked with this amazing group of people ... Zach has won multiple Grammys. It was really cool to be in a room with those people and see their genius.
Who are some of your favorite musicians that made you want to make music?
Some of my favorites are not the type of music that I made. I love Haim, and I love Léon who is either a Finnish or Norwegian singer. I love organic female pop music — Dagny, Sigrid — where usually they're not from the U.S. Or Maggie Rogers, who is from the U.S. The vocals are so organic and beautiful. [I love] pop music that kind of builds, it sounds kind of indie, but some of them aren't necessarily indie artists. That's my favorite kind of music.
Rob approaches music and comedy similarily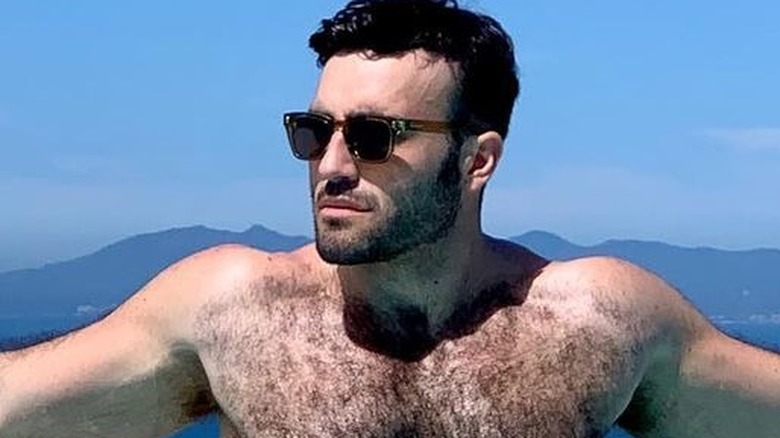 Everything Haim does is perfect.
I saw a video of them on TikTok recently, 10 seconds of them performing. And they looked so badass, like Alana hitting the drums. They're so cool, and they're great actresses.
They are. They just performed recently at the Hollywood Bowl and I wanted to go so bad.
That was the show that I saw the clip of. So you missed out. Not to make you feel worse about it, but it looked like a good show.
Everything I've seen looked amazing, for sure next time. What, to you, is the future of music looking like? And how do you approach music and your comedy differently, or do you approach them similarly?
It's a very similar approach where I am focused on committing to something as hard as I can — having great details and production quality. I want something to be as good as it can be, but committing to a concept that is so stupid, it doesn't deserve the level of commitment that I'm giving it. It's what I did when I wrote a children's book around Fergie's "National Anthem" performance that was banned in 2018, committing to something that's so silly. With my music, I plan on doing the same thing with this new song and future songs, taking concepts that really shouldn't be songs. Someone really shouldn't be singing about this — why would it ever deserve a song? — and then making the production quality amazing.
[Also], there's the music video having great sets, costumes, great dancers. "Nothing for You" has amazing choreography and dancers. We filmed the video two days ago. That's the kind of thing that I want to do. And then when you listen to the music, it sounds so good. And when you listen to the lyrics, you're like, "Wait, what? They're really saying that?" That's the kind of vibe that I want to have with my music.
The plan to make more music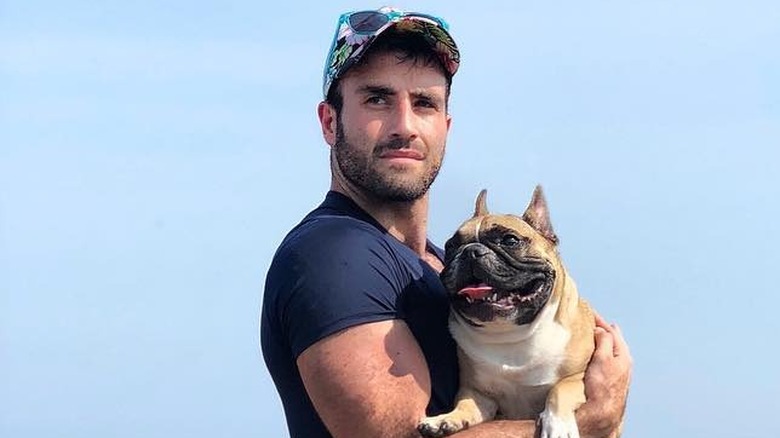 Having heard your debut single, I think all of that comes through in such a really interesting way that sets you apart from other artists.
Thanks. There are definitely some great comedy singers or musical artists, like Bo Burnham and of course "Weird Al" Yankovic, but they do a sort of music that is different. Parody is different than what I'm doing. Bo Burnham is very much his own thing, it's almost poetry that he does with music overlay. I wondered, "What if it sounds like a song that you would hear, and if the lyrics were something else, it would be just as good." But the lyrics are what I would want them to be in my own sense of comedy.
I can't wait to hear what else you release. I'm assuming you do have plans to do more?
Totally. I definitely do. I'm back in the studio [soon] with the same songwriters and producers. I have a whole list of songs that I'd like to put together. I had such a great time getting the video together as well, which looks great, and I can't wait for people to see it. I would love to keep doing this ... maybe get an EP together.
You talked about how, in Pride Month, it's about fighting for your rights and protecting the rights we have. I know you're always very vocal about queer rights in general. What would you say are some of the biggest challenges facing the queer community today?
There's a lot of them. It's a great question. We have such a struggle ahead of us and we have had some successes that make us feel very comfortable, like [legalizing] gay marriage in 2015 in the United States. I think a challenge for some people in the community, particularly cis white gay men, is that once things feel great for us, it's not really time to step back and go, "Well, things are good."
There are other more marginalized parts of our communities, including trans people, that really need our help and need us to fight as much as we had been fighting for things that directly impacted us. Because we all have the same thing in common, we're all living the same shared experience of being a sexual minority, or gender, et cetera. Getting our community to rally together for everything, for everyone everywhere, not just United States, is a big issue and something that we should be thinking about. Also, I had forgotten to mention — "Nothing for You," 100% of the proceeds of song purchases in the month of June will go to For The Gworls, a trans-led community and organization that I love. They provide funding for gender affirming surgeries for Black trans people, and [pay] their rent too.
The issues critical to the LGBTQ+ community right now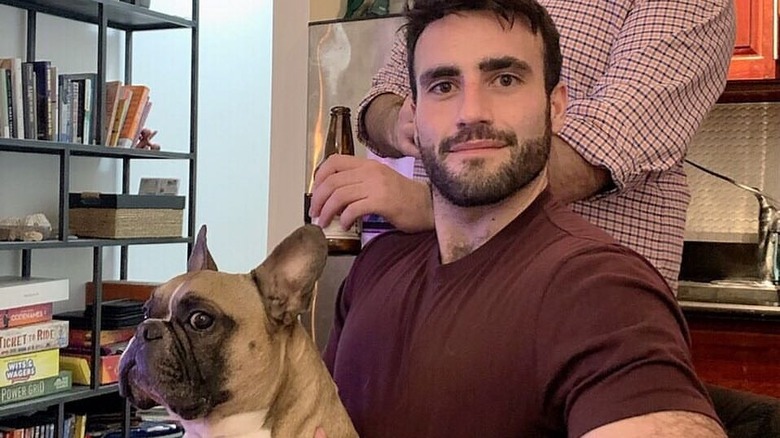 That's amazing.
Yes. It's two basic essentials, and I love what they do. They usually throw parties to try to raise funds, which is very in the vein of the queer community. We know how to throw a party, we know our music. We want to have fun. So I'm trying to give as much attention and funds to them as possible.
That's wonderful. In that same vein, with everything that's happening right now with Florida's Don't Say Gay bill — I know you've spoken out about that — what are your thoughts on it and what can we do to counteract it?
It's definitely disappointing, but not unexpected seeing where it came from, with [Florida] governor Ron DeSantis, and the things he pulls there. It's indicative of what other states are going to do to follow in the United States. Like I said, we get comfortable and go, "Well, we can get married here, we're kind of set." No, there's always going to be some attack on queer people and misunderstanding of queer people, and it also comes in line with this other-ising ... as if we aren't people.
If you were to ask your teacher if they are married, and they said, "Yes" and [said], "I have a husband," it's okay. But if she has a wife, she can't talk about it. She has to say, "Oh no, I can't discuss this." And it makes kids feel like that situation is taboo. It makes kids feel like we can't talk about those things, that they're bad, and it's not the case. Awareness around the bill and continuing to talk about it, and talking about when other states adopt it too, is going to be really important.
Thank you for phrasing it that way. It's a great way to digest and understand it, in terms of a teacher not being able to talk about being married. That's such a comprehendible way to understand it.
The biggest misconception that has been put out there is that kids are [getting] a sex education course at the age of five. That is not the case at all. It's age-appropriate conversations that kids are asking anyway, that also apply to straight people. If you were to watch a Disney movie, and the prince and princess kiss, how young are you watching Disney movies? Is it offensive to see them kiss? If it isn't, then why would it be offensive if the genders were switched? It's those kind of conversations and it's not like, "We're going to show you all these sex toys in kindergarten." That is not what's happening at all, but some people seem to think that way.
Rob Anderson reveals what's next for him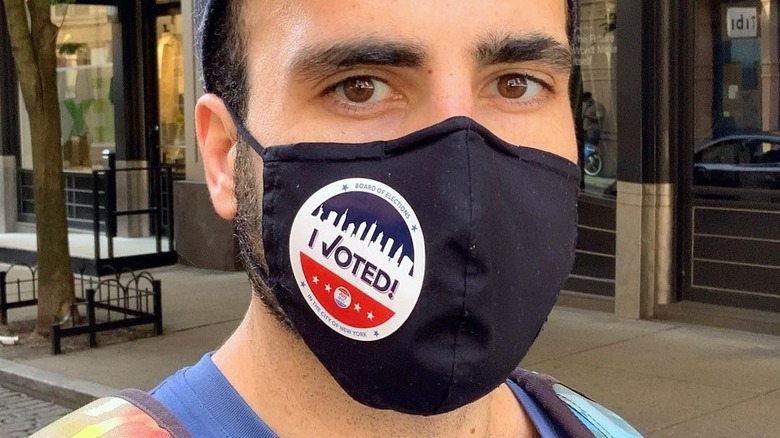 What was your experience like getting such a following online, specifically with your "Gay Science" series?
That's a great question. It was a wild experience in 2020 for many reasons. I am very fortunate to have had an outlet to be creative and distract myself from what was happening in the world and make light of a situation that wasn't so light. I was very thankful to come across TikTok at that time and feel inspired by it. So it was a really good thing for me [even though] there are some mental health challenges when your entire world changes socially online, and then your work becomes the internet. I had some struggles with that, but I have great friends and I have a really supportive family. So they really helped me kind of keep my balance as I continue to do it.
What advice might you have for other creators, queer or otherwise, that are now starting to get media traction?
I would say, first, that if you are posting videos and they're doing well, it means that you already enjoy doing this. You [probably] wouldn't make a video if it wasn't fun. You wouldn't make content if you didn't enjoy it. That won't always be the case. If you start posting regularly, it's impossible to be endlessly creative and hit the highs and keep climbing and every video is doing better. It's impossible. It won't happen. So understand that it's a slow progress, it's a slow build, and you have to remember to have fun in the things you're making. If it feels like the content you're talking about isn't really for you, but a lot of people are talking about it, so you feel like you have to ... go with your gut and what you think is truly you and is fun, because that's going to be the best content anyway. Don't get too focused on all of your numbers, because it'll just be a headache. Lead with the fun.
That is such good advice. What can you tell us or tease about what's next for you?
I will be touring in more cities, so you'll be able to see me live. That'll be in the fall. I'm very much looking forward to that. I'm going to continue working on my music, getting some really great music videos out that are just as fun as the songs. And I'm also working on some scripts for longer-form entertainment. Those things sometimes do take a while to get financed, to be seen, but there is something happening for me. My roots are in film, and I would love to have longer-form entertainment, either in TV or film. So I think that's somewhere in the near [future].
You can catch Rob Anderson's "Gay Science" series on TikTok and YouTube. His debut single, "Nothing For You," is now streaming on Apple Music and Spotify.
This interview has been edited for clarity.