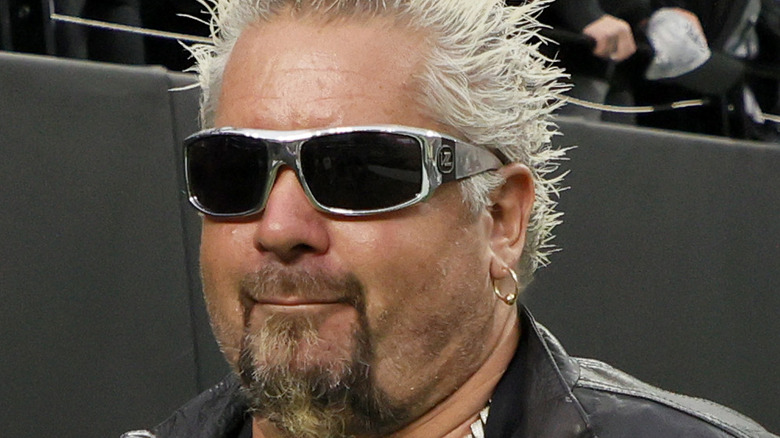 One commercial during this year's Super Bowl game will feature Guy Fieri, marking his first ad spot during this annual football game.
Fieri is a restaurateur, author, and host of shows like "Diners, Drive-Ins, and Dives" and "Guy's Grocery Games," per Celebrity Net Worth. During Sunday's matchup between the Los Angeles Rams and the Cincinnati Bengals, he will invite people to learn more about Bud Light Seltzer Hard Soda in the "Land of Loud Flavors." In a press release from Anheuser-Busch, he shared, "Teaming up with Bud Light Seltzer for my first Super Bowl commercial feels like being the #1 draft pick. This team has always made the best commercials, and I'm stoked I get to play for them," said Fieri.
Andy Goeler, the vice president of marketing at Bud Light, went on to say in the press release, "There's no more appropriate way to bring fans a taste of our latest innovation, Bud Light Seltzer Hard Soda, than by introducing our new universe 'Land of Loud Flavors' on the biggest and loudest stage possible."
The ad shows Guy Fieri as the mayor of the Land of Loud Flavors
In Guy Fieri's commercial, a group is enjoying Bud Light Seltzer Hard Soda when, all of a sudden, their refrigerator becomes a portal to the "Land of Loud Flavors." Two people with spiky blond hair come out and say, "The mayor must see this." They grab the hard soda, step back into their land, and are followed by the group of friends.
As pointed out by Today, this land has features like a bridge with sunglasses and a burger topiary. Eventually, everyone makes it to Fieri, who announces, "Citizens, there's a new flavor in town. I declare Bud Light Seltzer Hard Soda the loudest flavors ever!"
Anheuser-Busch's press release on this Super Bowl commercial shared, "The new spot celebrates the brand's commitment to disrupting the seltzer category with permanent offerings like Bud Light Seltzer Retro Tie Dye and the all-new Bud Light Seltzer Hard Soda, in addition to limited edition packs like the seasonal Bud Light Seltzer Ugly Sweater and recent pucker-worthy Bud Light Seltzer Sour."