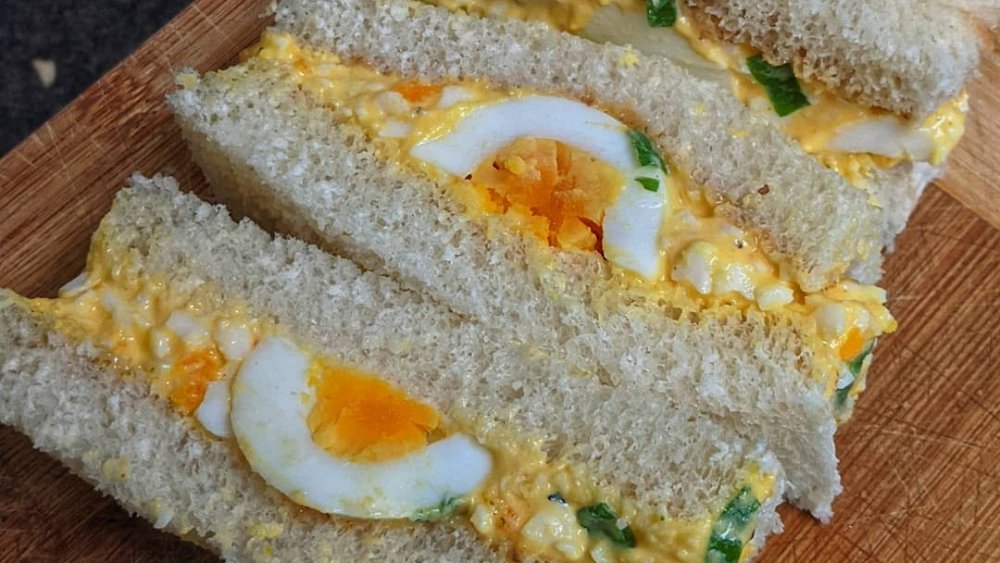 If you grew up eating egg salad sandwiches, you may believe that chunky boiled eggs, crunchy add-ins like pickles, celery, and onion, and lots of mayo to bind it all together are what egg salad needs in order to be satisfying. Well, the Japanese-style egg salad sandwich served at Konbi in Los Angeles, and the over 4,800 likes it's received on Instagram, are here to change your mind. We're not saying your egg salad needs to be spread between slices of pillowy Japanese milk bread with perfectly soft-boiled eggs nestled in the center in order to be good. That's just what will make it Instagram-famous. But we are saying your egg salad could be creamier, fluffier, and tastier, thanks to some simple upgrades.
What makes Japanese-style egg salad so delicious is the ingredients and some interesting tips on technique that will help you achieve its noteworthy soft texture. Did we mention Konbi's famous sandwich is inspired by the egg salad you'll find in Lawson stores all over Tokyo? That's the Japanese equivalent to 7-Eleven (via The New York Times). If you don't believe the egg salad from a convenience store is worth emulating, don't take our word for it. Anthony Bourdain confirmed it when he tweeted, "The Unnatural, Inexplicable Deliciousness of the Lawson's egg salad sandwich," along with a photo of said sandwich. Ready to learn more?
Use the right mayo and your food processor for tasty egg salad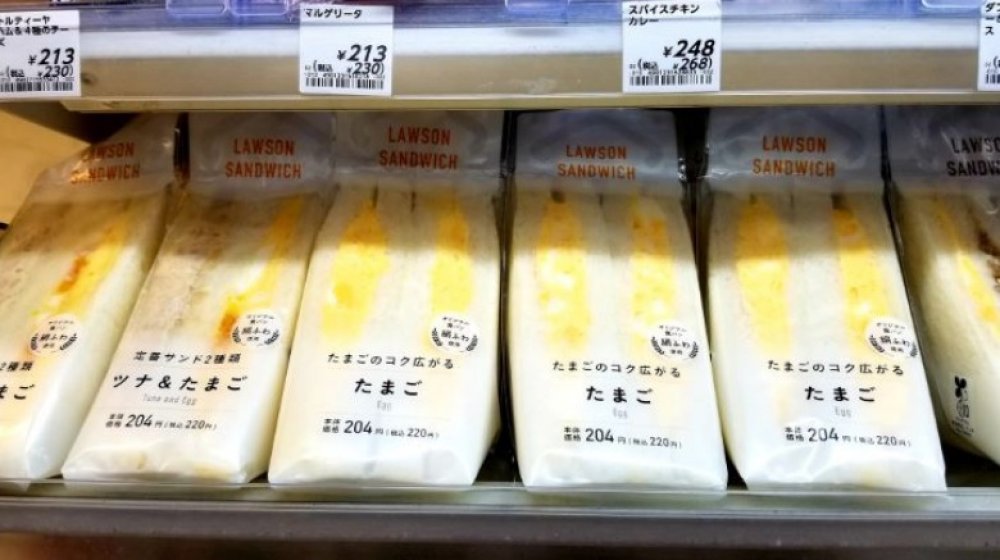 Konbi's version of Japanese convenience store egg salad uses slightly different ingredients compared to what we're used to. There are hard-boiled eggs, of course (six of them go into the egg salad, to be exact), but then just one scallion, sliced thin — no pickles or celery. For the binder, Konbi's recipe calls for 1-1/2 teaspoons each of rice wine vinegar and dijon mustard, and 1 tablespoon of creme fraiche, which The Kitchn says is like sour cream but it's thicker and has a richer flavor. Then, there's the all-important mayonnaise — just 1 tablespoon of it. But don't go reaching for Duke's or Hellman's.
Japanese-style egg salad features Kewpie mayonnaise. According to Food & Wine, Japanese Kewpie mayonnaise consists of just egg yolks, rather than whole eggs, and it gets its seasoning from MSG and either rice or apple vinegar. The resulting flavor is something much creamier and slightly sweeter than traditional American mayo.
So, we've uncovered the secret ingredient. How about technique? Food52 says a characteristic quality of Japanese egg salad is a cloudy, fluffy texture, and the trick for achieving it is to blitz the hard-boiled eggs in the food processor rather than chop them by hand. Simple enough! With these tips and tricks, your egg salad game has officially been upped.