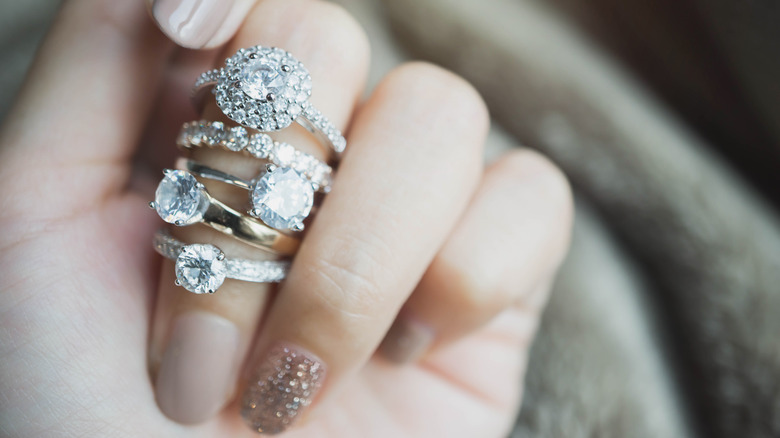 If your Instagram feed hasn't already started filling up with fresh engagement ring pictures, we're happy/sorry to inform you that the most popular dates to get engaged are coming up. According to The Knot, not only is December "the most popular month to get engaged," Christmas Eve and Christmas Day are two of biggest days for people to pop the question, followed by New Year's Day and Valentine's Day.
During endless social media scrolling sessions, we've noticed a shift away from solitaire diamond engagement rings. The trend first started in 1948, in the wake of the De Beers "A diamond is forever" marketing campaign, generations were convinced the only way to say "I love you" was by giving your partner a giant diamond (via Better Marketing). Today, couples seem to be embracing a spectrum of styles, shapes, and colors when it comes to symbolizing their love.
"Focusing exclusively on the center stone is a thing of the past," jewelry designer Arielle Ratner told The Zoe Report. "Settings with personality and a higher level of design are in. My clients are looking for a fully designed 'piece' that also encompasses a beautiful stone."
So while the solitaire engagement ring will always be a classic, these are the engagement ring trends we expect to see in 2023.
Going vintage for sustainability is a major 2023 engagement ring trend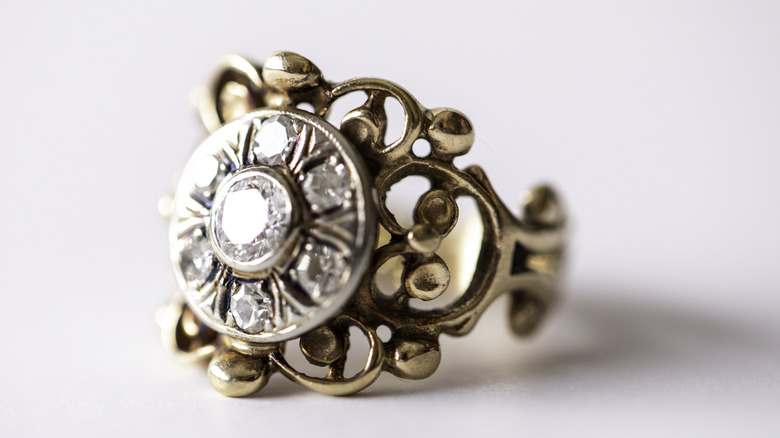 While some are choosing to put a modern twist to vintage styles, others are choosing authentic antique rings to propose with. According to Elle, antique engagement rings started trending in 2016 as buying diamonds and other gemstones that are ethically sourced became a priority for engagement ring shoppers.
Some have opted to propose with family heirlooms while others search through antique shops and thrift stores. Etsy shops also cater specifically to someone looking for an antique engagement ring, like AmpleJewelryShop or STARJEWEL99. Not only are antique engagement rings eco-friendly, they're often more affordable than a brand new vintage-style ring.
Art deco style engagement rings are one vintage style you'll see in 2023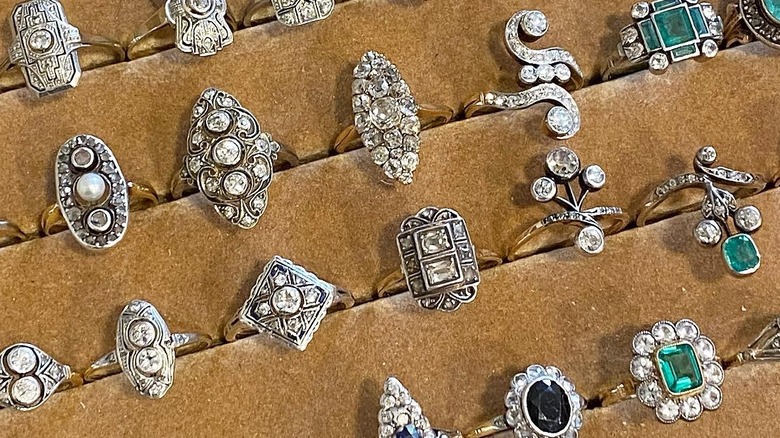 As we move through our own Roaring '20s, jewelry designers continue to draw inspiration for engagement rings from the 1920s. Those ring designs were all about mixing different colored gemstones and setting them on angled lines around a larger stone, Elle explains.
In 2023, you can expect to see more art deco-inspired engagement rings shimmering across social media. Not only are ring buyers gravitating towards authentic vintage designs available through antique and Etsy shops, but clients are also going to jewelers in search of fresh takes on antique designs. If you're engagement ring shopping, boutique jewelry shops like Doyle & Doyle have both antiques and new art deco engagement ring designs to choose from.
The halo ring is a 1920s engagement ring style that's having a major moment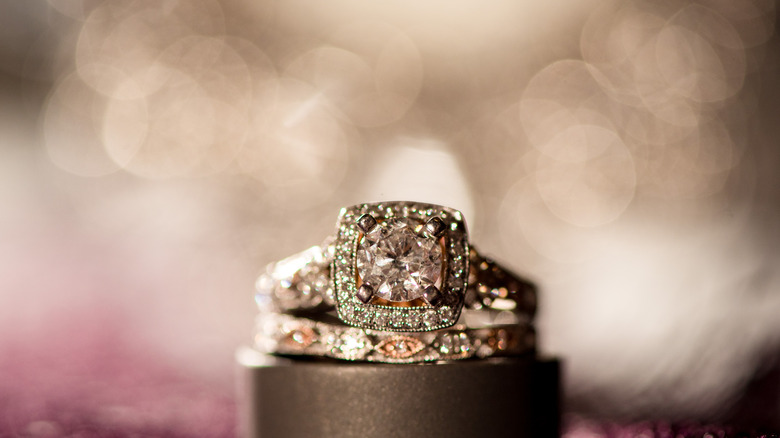 There are some specific versions of the 1920s art deco engagement ring trend that you're going to see all over social media in 2023. With its design rooted in the cluster rings of the Georgian Era, the halo ring as we know it today was made possible thanks to the Industrial Revolution and new technology that allowed for new ways to cut diamonds and other gemstones more precisely (via Roman Jewelers).
Today, some brides-to-be are sporting vintage halo engagement rings from the 1920s thanks to their popularity in antique shops. Others are choosing to design their own, mixing modern elements with old world glamour.
Black diamonds are a shocking 2023 engagement ring trend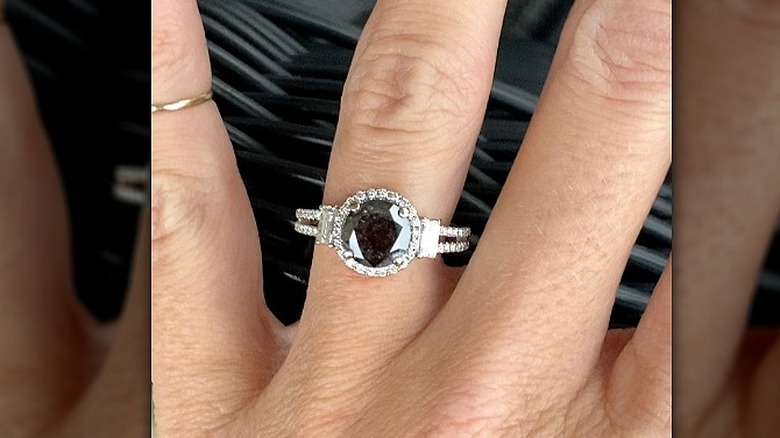 White diamonds are nice, but black diamonds are better — at least that's what the 2023 engagement ring trends are showing us. First spotted on the hand of one Ms. Carrie Bradshaw in "Sex and the City 2" after Big finally gives Carrie a ring, the black diamond is an edgy stone choice for the fashion-forward couple.
Jewelry designer Anna Sheffield told The Zoe Report she's seen a major comeback for using black and other colored diamonds in wedding jewelry. Part of this may be due to the black diamond's affordability; while more rare than a white diamond, black diamonds are typically less expensive.
While we might not have expected to see the gothcore aesthetic infiltrate bridal jewelry, but we're glad it did.
Expect to see a lot of sapphire, emerald, and ruby engagement rings in 2023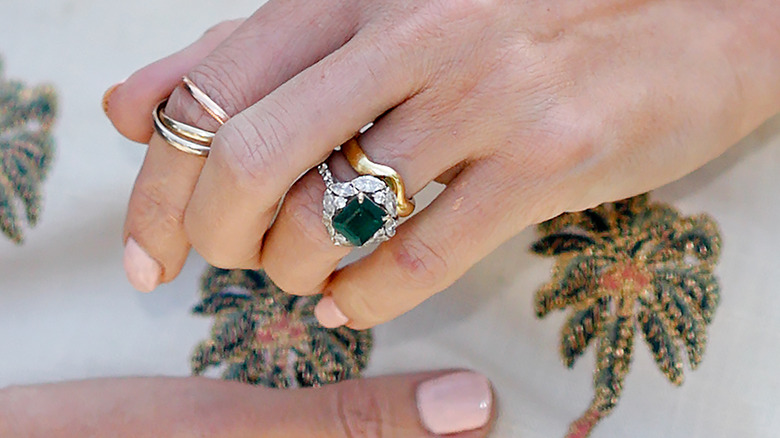 Semi-precious stones have a long tradition of being part of engagement ring design, especially in America. According to Elle, due to the 1920s art deco era, it was common for rings to be set with an emerald, sapphire, or ruby at the center with diamonds around it. In the 1980s, Princess Diana breathed new life into the trend, choosing a sapphire engagement ring surrounded by a halo of diamonds when she and then-Prince Charles, the Prince of Wales, were engaged.
Almost 30 years later, sapphires were everywhere again when Prince William, Prince of Wales, proposed to Kate Middleton with his mother's sapphire and diamond engagement ring. Sarah Munro, co-founder of Sarah & Sebastian, told Vogue Australia, their clients have been choosing emeralds as center stones over sapphires lately — a trend we suspect will continue through 2023.
The Toi et Moi engagement ring is gaining popularity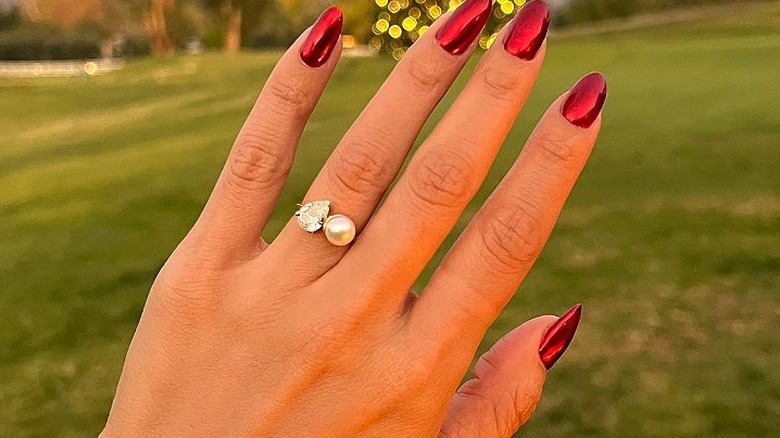 Like Princess Diana, former first lady Jackie Kennedy was a style icon whose own engagement ring had a major influence on the ring designs of her time. Her ring from former president John F. Kennedy had an emerald-cut diamond and an emerald stone, launching not just the emerald-shaped diamond trend, but also the popularity of the "Toi et Moi" engagement ring setting (via Elle).
One of the reasons the Toi et Moi setting is so popular for engagement rings is how much customization can go into the ring's design. It's not just in mixing and matching between diamonds and gemstones for the ring's stones that can be customized, either. Jackie's ring was set on a band that had leaf-shaped diamonds while others can choose a simpler setting, like the "Pearl and Radiant Cut Moissanite 14k Rose Gold Ring" from GoldenBirdJewellry.
Trilogy engagement rings are making a comeback in 2023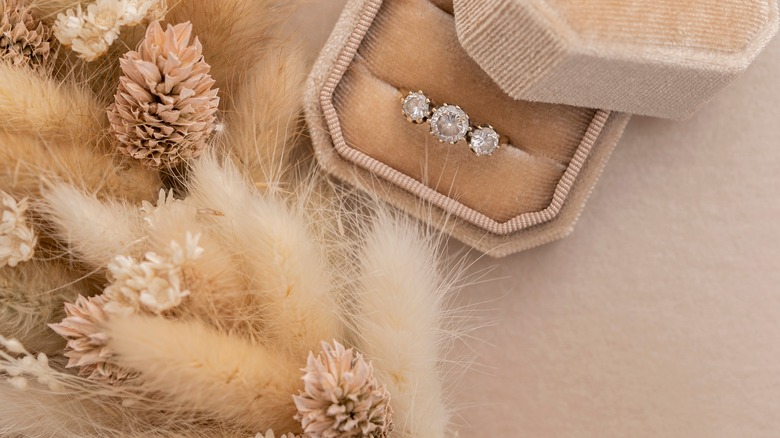 Rings like Meghan Markle's three-stone engagement ring stunner are seeing a resurgence in popularity. According to Elle, the design first became trendy in the 1980s, when ring design trends focused on uniqueness and opulence.
Trilogy engagement rings allow the same room for creativity as their "Toi et Moi" setting sibling. Couples have been opting to mix and match stones and cuts, using colored diamonds or other gemstones to create a ring unique to them. Plus, they're steeped in symbolism: The three stones represent a couple's past, present, and future or their love, friendship, and fidelity, depending on who you ask (via Borsheims).
Expect to see a lot of bezel setting engagement rings in 2023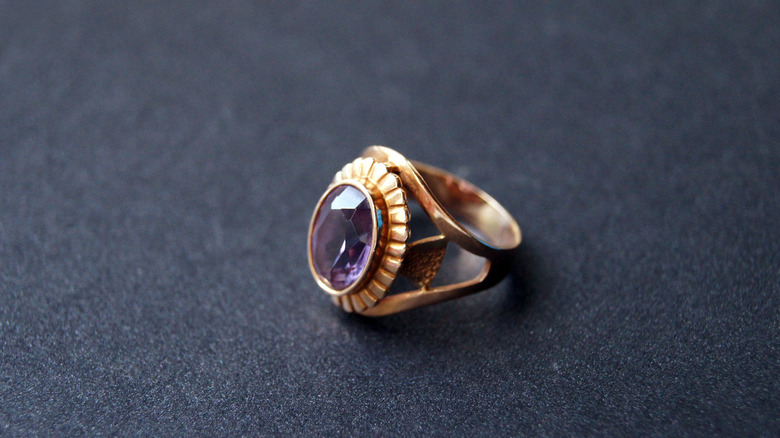 While claw settings are traditional for engagement rings, the "bezel setting" — where the stone is encircled in metal — is going to be all over your Instagram feed in 2023. According to Yi Gui, founder of Yi Collection, clients love the bezel setting for engagement rings not only because it protects the stone, but the designs themselves already have a sleek, modern feel to them (via The Zoe Report).
Like many engagement ring trends, the bezel setting has been around for awhile but has evolved to reflect the aesthetics of this era. We've been seeing bezel settings being combined with other popular 2023 engagement ring trends, like incorporating different metals, gemstones, colored diamonds, and shapes into designs.
East-west Engagement rings are a popular modern take on the solitaire setting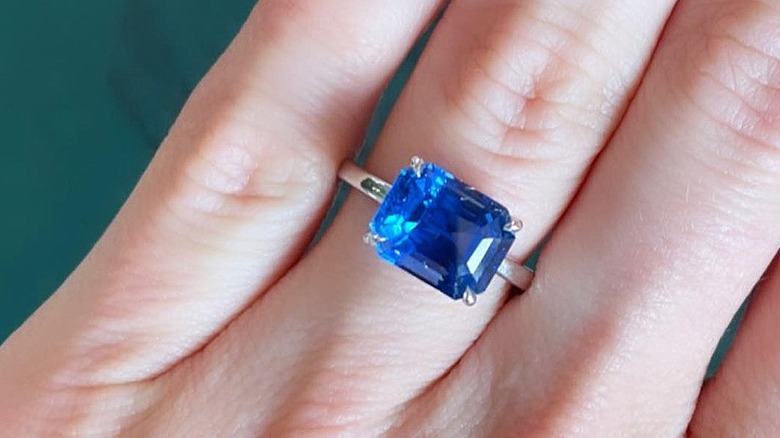 When couples want a fresh take on old traditions, they're turning to the east-west engagement ring: A style that literally takes the solitaire style and turns it on its side, per Brides. With a pear, emerald, or a marquise-shaped stone as the focal point of the ring, designers lay the stone horizontally on the band for a truly modern aesthetic. So modern, in fact, that Tiffany & Co. currently only carries east-west engagement ring settings for men.
However, that's why we love the east-west engagement ring and why we're so excited to see more of them in 2023: Designs range from delicate to masculine, making an east-west engagement ring a highly customizable setting. In our social media scrolling, we've seen some couples opting for plain bands while others are doing a single or double pavé band, or even a halo around the center stone, for an extra touch of glamour.
Asscher-cut engagement rings are another art deco trend making a comeback in 2023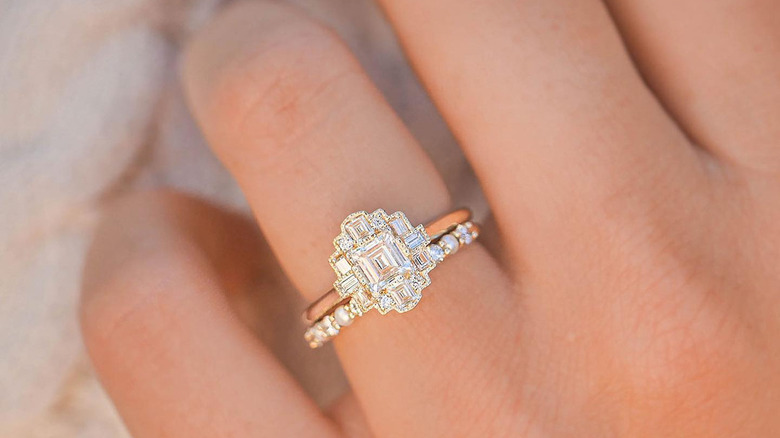 The intricacies of how a couple works are unique to them and, with geometric cut engagement rings, these distinctive qualities are celebrated. Perhaps that's why, when choosing focus stones for their engagement rings, so many couples are choosing Asscher-cut stones.
The Asscher-cut was actually the first patented diamond cut, named after Dutch jeweler Joseph Asscher (via The Knot). Similar to the princess-cut and emerald-cut, Asscher-cut diamonds are more square and, when looked at from above, the different faces of the stone meet together to make an X-shape. While they can appear smaller, Asscher-cut diamonds shimmer more brilliantly than other cuts because of what The Knot calls their "one-of-a-kind facet arrangement."
Pear-shaped and marquise cut engagement rings are another 2023 trend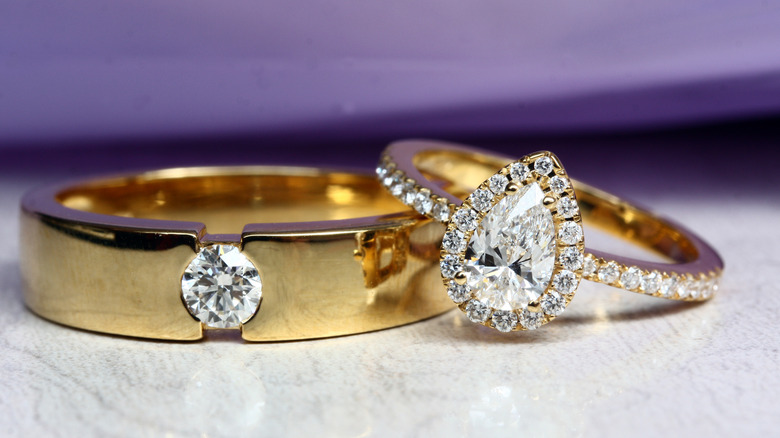 The pear-shaped diamond trend began in the mid-1960s after Mia Farrow was seen sporting a pear-shaped engagement ring from Frank Sinatra in 1966 (via Elle). Then, geometric cut engagement rings started trending in the 1970s, Elle explains, after Aristotle Onassis proposed to former first lady Jackie Kennedy Onassis with a marquise-shaped ring in 1968. The style was revived in the late 1990s after David Beckham proposed to Victoria Beckham with a marquise cut ring.
The thing that makes pear-shaped and marquise cut engagement rings a standout is, besides its feminine shape, it adds serious sparkle to an engagement ring setting. We're seeing pear-shaped stones at the focus of trilogy and Toi et Moi ring designs.
Mixing metals is a 2023 engagement ring trend we're watching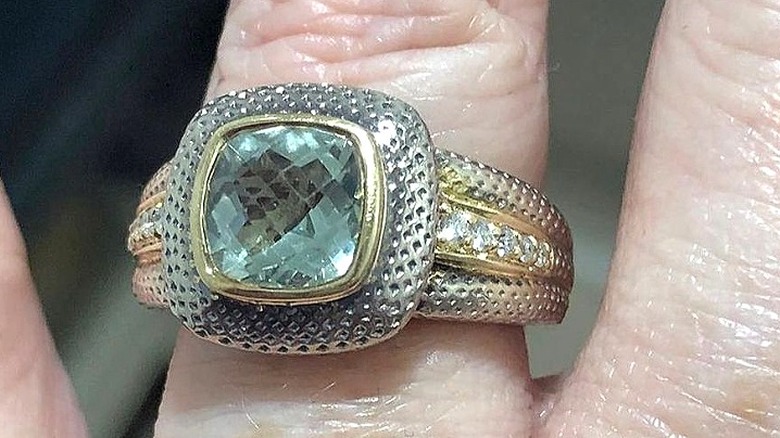 Couples are opting to mix up more than just the shapes and types of their stones. While Queen Elizabeth II famously wore her platinum engagement ring with her gold wedding band, the modern take on the trend mixes metals in one ring.
Some designers are opting to blend yellow and rose gold, changing up the colors around the focus stone and on the band, like the "Devon" ring by Ken & Dana Design. Others opt to use different metals to highlight delicate details, giving designers even more of a chance to reflect the uniqueness of a couple through ring design.