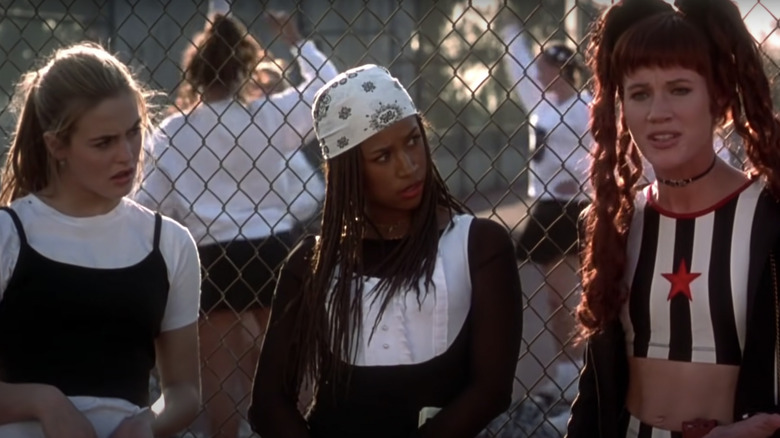 We may receive a commission on purchases made from links.
'90s nostalgia is in full swing. With everything from slip dresses to thin brows making a comeback in the 2020s, now's the perfect time to dig through your closet and uncover those forgotten Clinton-era fashions. According to "Landline" singer Victoria Christina Hesketh, "The '90s are like a warm, fuzzy sweater we can put on and feel reassured," via W Magazine.
Gen-Zers, especially, are celebrating trends that thrived before they were born. As noted by Vogue, Olivia Rodrigo is "obsessed" with '90s pop-punk style. Sure, Beanie Babies may no longer be trendy collectibles, but flip phones are making a snappy comeback, via Rolling Stone. "The '90s were the most 'advanced' pre-Web era in terms of culture," Marc Jacobs art director Ava Nirui told W Magazine, that's "why it might seem so appealing to those who didn't experience it." So, this Halloween, scan the aisles of a local thrift store (or simply go through your own wardrobe), and pay homage to this pre-Facebook decade. Here are our top picks for '90s pop culture-inspired trick-or-treating fits.
The Rockford Peaches, A League of Their Own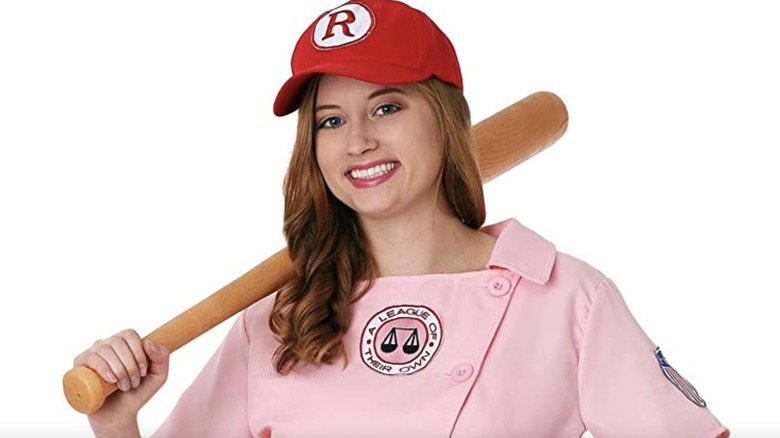 Even if you're not a baseball fan, "A League of Their Own" is one of the most memorable movies of the '90s. With an A-list cast including Madonna, Rosie O'Donnell, and Geena Davis, the story follows the first female baseball league formed in the midst of WWII, per Collider. While men fight on the frontlines, the Rockford Peaches gear up to take their places on the baseball field. In 2022, Amazon Studios revived "A League Their Own" in a reimagined series, this time examining more questions surrounding sexuality, race, and misogyny, via Collider. Given the resurgence of the story, it's the perfect Halloween to take a whack at the Peaches yourself. Film-accurate costumes are available on Amazon, but you can't go wrong with a simple, collared dress and a red baseball hat.
Thelma & Louise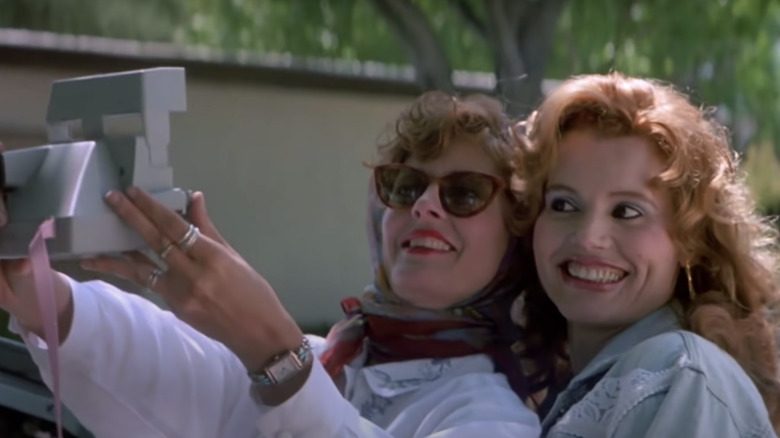 Speaking of Geena Davis ... "Thelma and Louise" follows Susan Sarandon and "A League of Their Own's" Geena Davis on the run from the law. What starts off as a weekend girls trip quickly goes south, and long-time friends Thelma and Louise suddenly become cross-country fugitives, per Roger Ebert. This 1992 classic is the perfect couples costume inspo — you can't have Thelma without Louise. To achieve the look, all you'll need is a head scarf, high-waisted jeans, and maybe a touch of blue eyeshadow.
Destiny's Child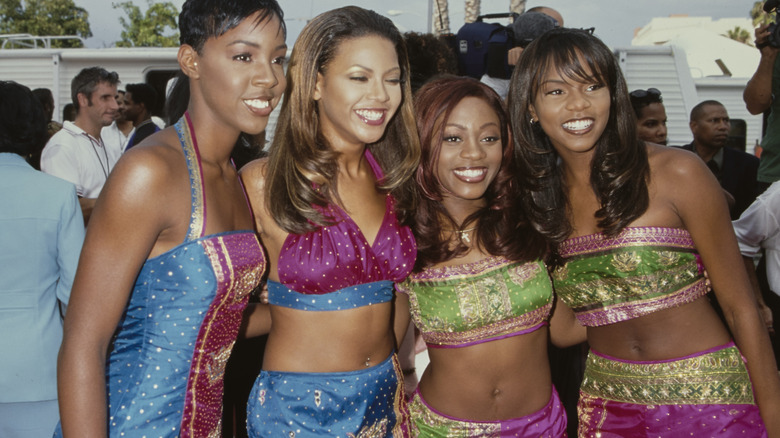 In the 1990s, girl groups were all the rage. Destiny's Child topped the charts with hits like "Say My Name" and "Survivor," truly revolutionizing the music industry and launching the career of one of today's most famous solo artists: Beyoncé, per Billboard. Though the group officially broke up in 2006, this just might be the year they get back together — at least in the form of your Halloween costume. Destiny's Child had several unforgettable fashion moments throughout the '90s — think lots and lots of low-rise jeans, via Vogue. When putting together your Halloween look, the most important step is finding a group of friends willing to go all-out, sparkles included.
Sanderson Sisters from Hocus Pocus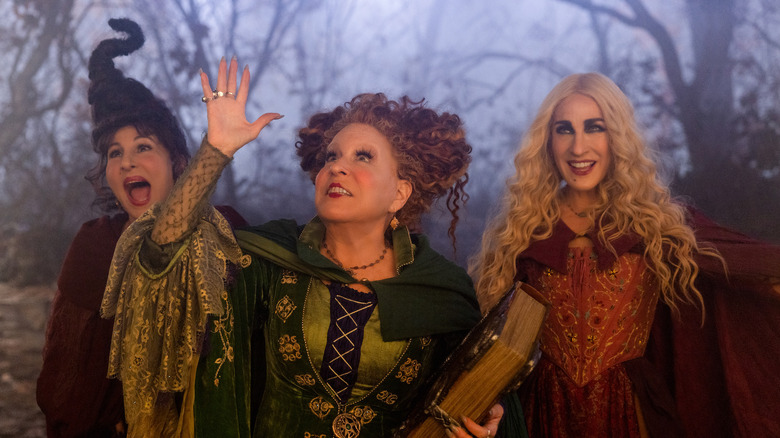 "Hocus Pocus 2" is out on Disney+ this fall, officially bringing Salem's famous Sanderson Sisters back into style for the first time since 1993, via Collider. To achieve the famous trio's aesthetic (even without magical powers and impressive choreography), it's all about pattern-layering and statement hair – Seventeen put together a list of "Hocus Pocus" costume items, featuring picks available everywhere from Amazon to Cider. The wonderfully-witchy Sanderson sisters are the best part of this famous fall story, making it the perfect movie to watch if you're looking for something festive but not too scary.
Neo, The Matrix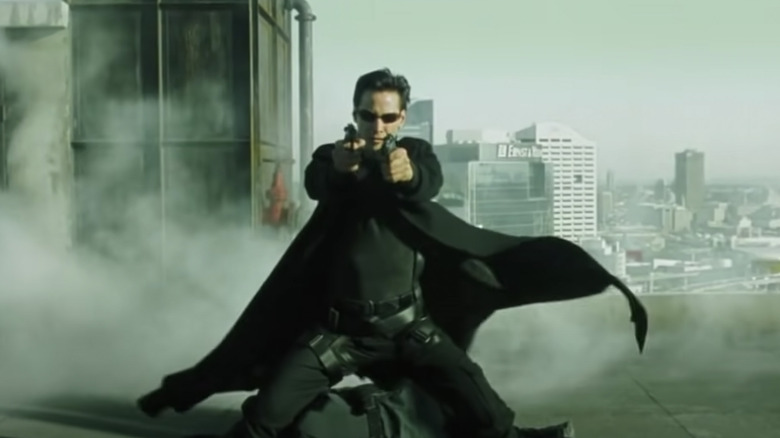 Red pill or blue pill? This 1999 cyberpunk classic is packed with leather trench coats and dark sunglasses, so you might need to visit your edgy best friend's closet in order to achieve Neo's futuristic aesthetic. Though Will Smith almost played Keanu Reeves's famous part in "The Matrix," the simulation (namely, Will Smith himself) had other ideas ... If you decide to dress up like Neo this Halloween, you better get to work learning how to dodge in slow-motion and jump between skyscrapers.
Literally anyone from Friends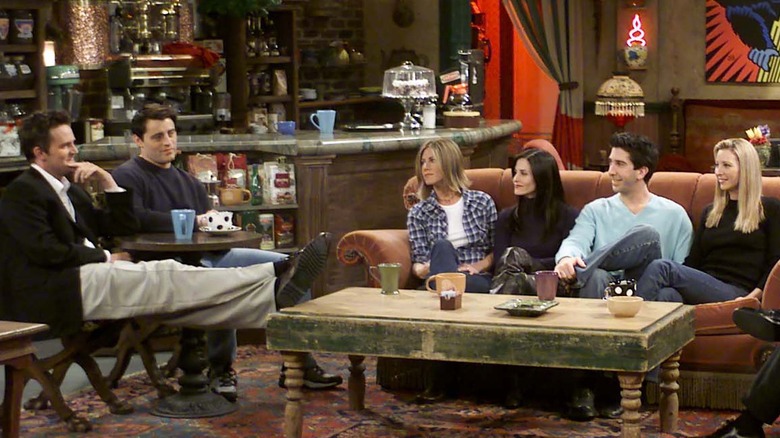 "Friends" aired on NBC in 1994, quickly becoming one of the most popular show of the '90s (if not all-time). This group of six New York City friends were beloved for their witty dialogue, questionable antics, and (of course) unforgettable romances. Jennifer Aniston's haircut in the early seasons even became the inspiration for one of the most popular styles of the time: "the Rachel." These days — in the midst of '90s nostalgia — "the Rachel" is making a comeback to salons near you, via Glamour. To dress like one of the friends, all you'll probably need is a pair of high-waisted jeans, a black turtle neck, or a pair of quirky overalls, per Marie Claire.
Mia Wallace from Pulp Fiction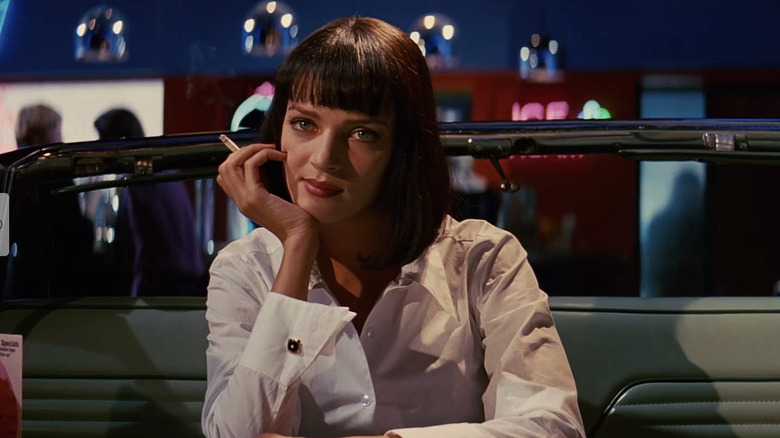 True, Mia Wallace may be an overdone Halloween look, but you can't beat simplicity. To recreate Uma Thurman's unforgettable "Pulp Fiction" style, all you'll need is a pair of straight-cut or bootleg black pants, a long-sleeve white button down, and red lipstick. Short, black bangs will also bring the ensemble together. Amazon sells a complete Mia Wallace costume, but chances are you'll be able to piece together something similar with what's already in your closet. You'll be ready to dance to Chuck Berry in no time.
Clueless
1995's "Clueless" is jam-packed with unforgettable lines ("Ugh, as if!") and plaid skirt sets. The movie is a modern retelling of Jane Austen's "Emma," the story of a young woman (in this case, Cher) who decides to try her hand at match making. Though Cher's schemes don't quite go as planned, we're treated to a series of unforgettable fashion moments along the way, per Vogue. To recreate one of Cher's or Dionne's most famous outfits, look out for plaid sets, statements hats, and silky slips, via Seventeen.
Ms. Frizzle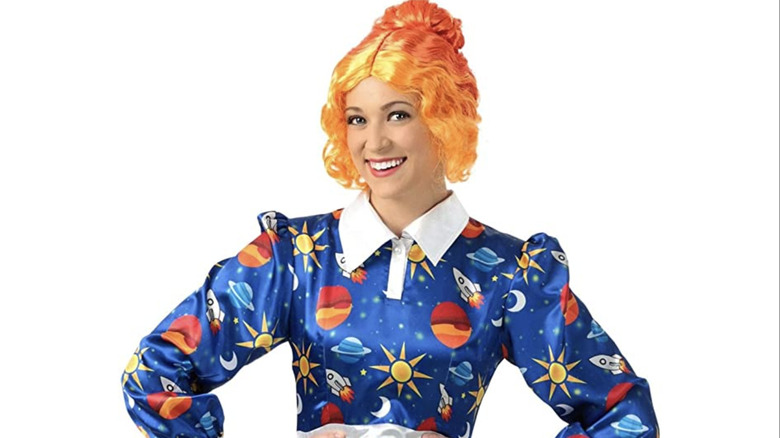 Ms. Frizzle raised a whole generation of kids. "Magic School Bus" first aired in 1994, with the red-haired Ms. Frizzle leading her class everywhere from the solar system to the digestive system, via Screen Rant. Not only was the teacher known for her bizarre field trips, but also for her trademark style. To dress up like Ms. Frizzle this Halloween, you'll need a bold, educational pattern (planets, for instance) and — if you're look to go the extra mile — piles of red hair. Don't forget to bring along the class pet, Liz the Lizard.
Edward Scissorhands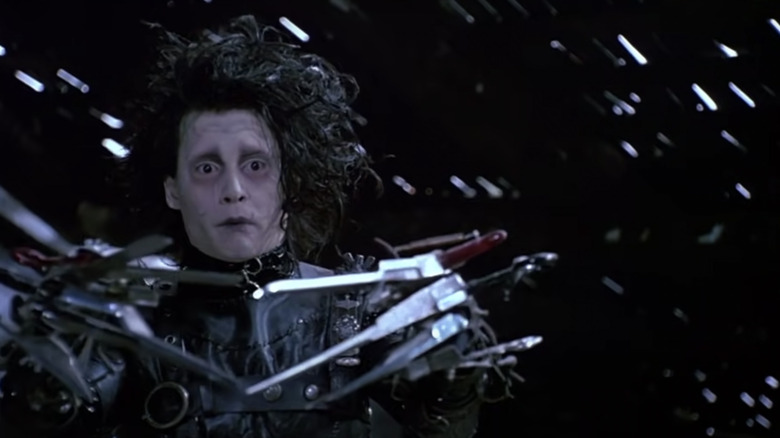 As long as you don't puncture the waterbed, this is a perfect Tim Burton-inspired Halloween look. The '90s "Edward Scissorhands" tells the story of a local outcast as he attempts to find his place in a cookie-cutter suburban town, via IMDb. The catch? He has scissors for hands. To dress like Edward this year, you'll want lots and lots of leather, gold clasps, and (of course) scissors. This costume isn't simple. You'll also need a bit of makeup expertise to achieve Edward's scars and dark circles. Careful with those sharp edges! Though, ideally the costume won't involve actual blades ...
Where in the world is Carmen Sandiego?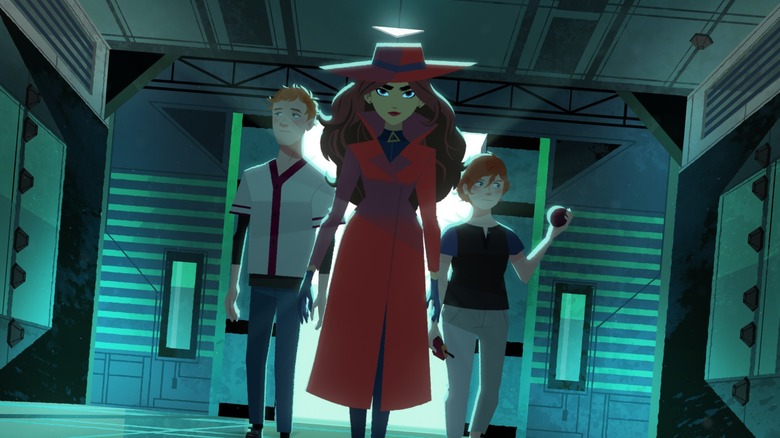 Carmen Sandiego was the red trenchcoat-wearing villainous mastermind responsible for teaching thousands of kids geography. Though the character was invented in the '80s as part of a computer game, she was also the subject of a popular TV game show throughout the 1990's, via Screen Rant. To become Carmen this Halloween, you'll need a long, red trench coat, black pants or leggings, and a wide-brimmed red hat. For inspiration, check out the 2019 Netflix series starring Gina Rodriguez.