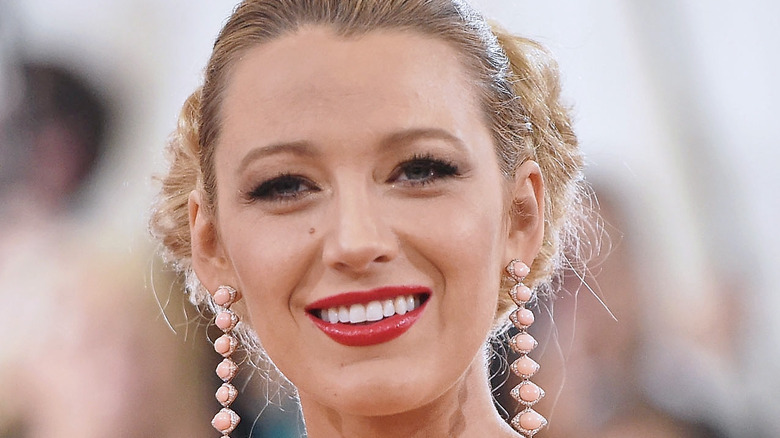 On May 2, 2022, the annual fundraising event known as the Met Gala will take place at the Metropolitan Museum of Art in New York City. Every year, the event challenges its fashion-forward attendees to be imaginative when it comes to their interpretations of the illustrious affair's theme. This year's theme is "Gilded Glamour and White Tie," which means we're expecting many show-stopping looks that will incorporate bustles, corsets, and overstated trains since this is how the upper echelon woman of that time dressed (via Vogue).
"It'll be great to see a nod to all the embellishment ... and a celebration of that kind of exaggeration," fashion curator and historian Kate Strasdin told CNN. "And the whole exuberance of color and shape. And maybe some crazy hats."
While most guests will follow this year's theme in some capacity, some may simply choose to ignore the theme altogether and come wearing whatever they want (whether intentionally or because they simply didn't comprehend the event theme). Here's a look back at some famous faces that clearly didn't understand the theme of Met Galas from years past.
Supermodel Karlie Kloss didn't impress fans at the 2019 Met Gala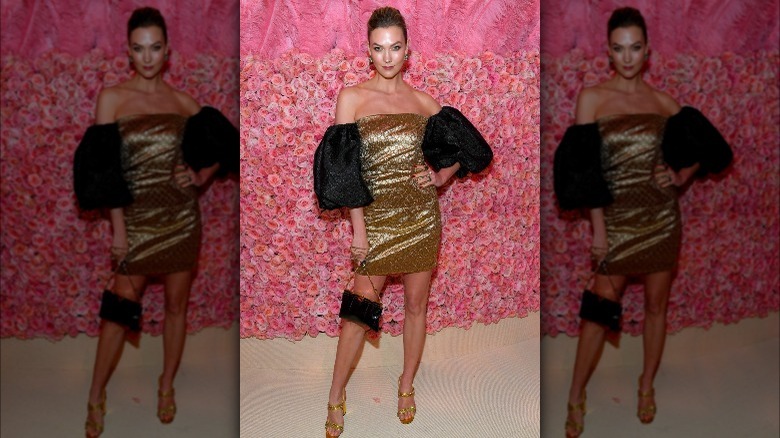 The theme for the 2019 Met Gala was "Camp: Notes on Fashion," and the basis for the theme was derived from Susan Sontag's 1964 essay "Notes on 'Camp,'" which "examines how the elements of irony, humor, parody, pastiche, artifice, theatricality, and exaggeration are expressed in fashion" (via The Met).
According to In Touch Magazine, Karlie Kloss's look didn't fit the costume couture bill and was giving more of a traditional glam look. The outlet noted that this isn't the first time Kloss attended the Met Gala dressed outside of the scope of the theme.
Twitter users were puzzled by her look and pretty much dragged Kloss for her choice of outfit. One user tweeted, "Poor Karlie Kloss thought 'camp' meant the Boy-Girl Formal at Summer Camp," while another called her look "beyond boring." Yet another Twitter user remarked, "Karlie Kloss mistook the [Met Gala] for TGI Friday's after prom." Ouch!
Kim Kardashian's Balenciaga ensemble was disappointing to many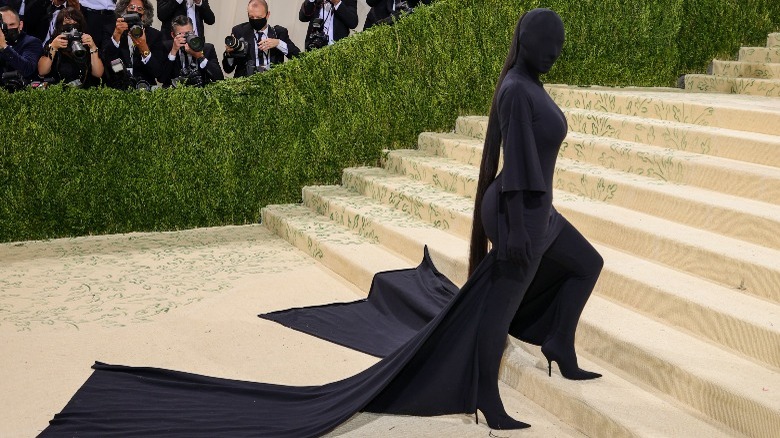 Kim Kardashian received mixed reviews on the Balenciaga t-shirt dress and balaclava ensemble she wore to the 2021 Met Gala, where the theme was "In America: A Lexicon of Fashion," which celebrated America's independence (via Harper's Bazaar).
Writer Hafsa Lodi felt Kardashian's look was "distasteful." In an article for The Independent, Lodi stated, "The burka, after all, has become a symbol of extremism, and when Muslim women choose to wear skin-covering abayas and burkas, they're considered stifling and oppressive — the furthest thing from high fashion and glamorous." She also shared that it was upsetting that Kardashian was receiving compliments on her outfit and found it far from the Met Gala theme. Additionally, Lodi questioned why someone would don an outfit where parts of it mimicked "the very symbol that America went to war to 'liberate' women from.
The reality star also caught flack on social media about her wardrobe choice for the event. She was called out on Twitter for thinking "she's making some kind of art statement while manifesting nothing but enormous, ego-blinded privilege." Even though many fans thought she didn't follow the assignment of the theme, the reality star actually felt that she knocked it out of the park. In an Instagram post where the reality star shared behind-the-scenes photos of herself and on the red carpet at the event with her followers stated, "What's more American than a T-shirt head to toe?!"
Sarah Jessica's Parker look was less fashion-forward, more fashion-rewind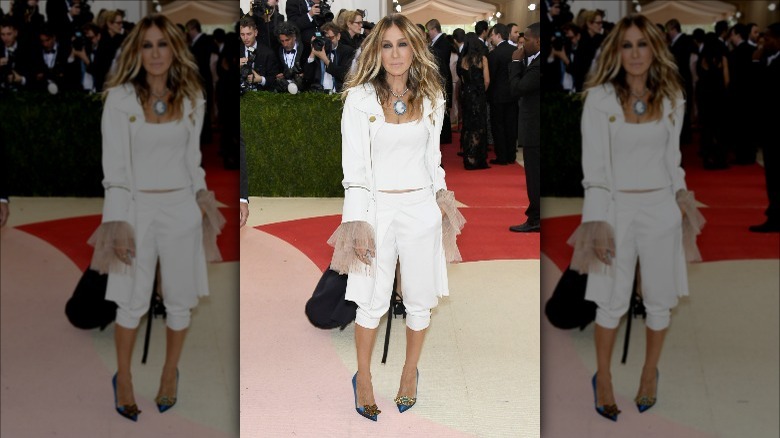 The 2016 Met Gala's theme was "Manus x Machina: Fashion in an Age of Technology," and right off the bat, Sarah Jessica Parker's outfit was giving guests "Hamilton" vibes. According to Vanity Fair, Perez Hilton took a poll, which has since been deleted, about who wore it better: Sarah Jessica Parker or Lin-Manuel Miranda. Entertainment Weekly reported that the actress' get-up was high on the list of "least on-theme Met Gala looks."
"The Sex and the City" star was called out by a fashion blogger on Instagram who posted a photo of her, Diane von Furstenberg, and Madonna, writing, "The 2016 Met Gala Theme was 'Manus X Machina; Fashion in the age of technology' and this trio didn't get the memo."
However, Parker defended her fashion decision in an article she wrote for The New York Times Style Magazine. "What is technology? And what does it mean when applied to fashion?" She continued, explaining, "We didn't want to simply apply lights and actual, physical technology on me. ... We wanted it to be about the technology of thought, of application, of fabrication. The technology of the hand and the machine."
Jaden Smith's strange accessory didn't make sense to many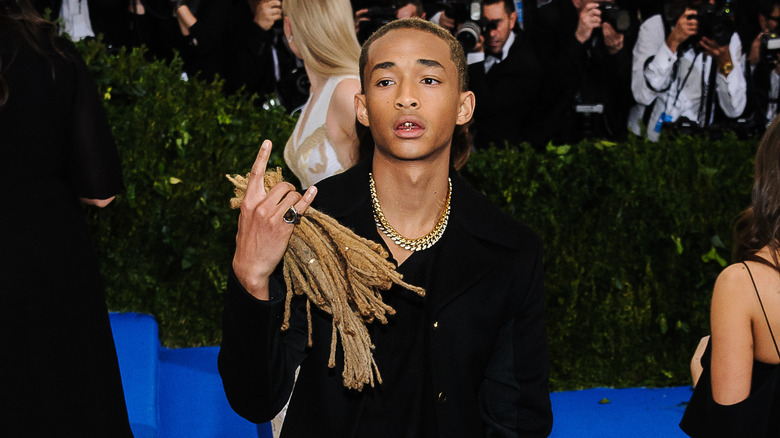 "Rei Kawakubo/Comme des Garçons: Art of the In-Between" served as the theme for Met Gala 2017 (via Glamour). And Jaden Smith decided to add a rather odd accessory to his all-black Louis Vuitton outfit. Smith brought a handful of his own dreaded locks and carried it around like it was a handbag.
Highsnobiety didn't hold back in their article about his choice of accessory, writing that although his dreads were "a very post-modern accessory", they couldn't figure out how he felt that carrying around his hair all night honored the theme of the Met Gala. Her also shared their dislike for his blonde locks of hair, calling it "weird" and "so wrong."
While on the red carpet at the Met Gala, Smith shared with Vogue's Leon Talley the significance behind his eccentric accessory. The young actor disclosed that he was going for a "Dracula"/"Matrix" look and then said that since he couldn't bring his sister Willow Smith, he decided to bring along his "old hair." What? While Talley applauded his fashion statement and exclaimed, "This is avant-garde!" not everyone felt the same, like The Fader magazine, which created the meme "When u finally emerge from your existential crisis."
Madonna's runway look feel flat with critics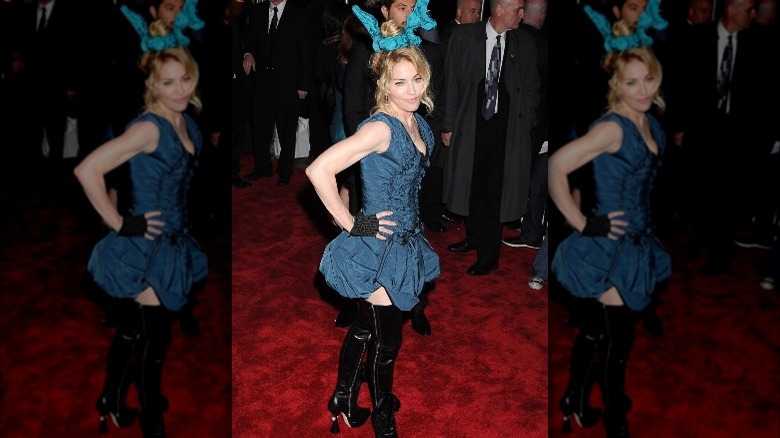 Madonna has always had an outrageous sense of style, stemming from the very beginning of her career. Because Madonna is such a risktaker, she's one of those celebrities that always brings the unexpected. However, that's not to say her style always works.
Madonna's Louis Vuitton look during the 2009 Met Gala raised many eyebrows among fashion critics. The theme for the prestigious annual event was "The Model as Muse: Embodying Fashion" (via Buzzfeed). Many people thought the mini ruched dress and thigh-high boots Madonna donned on the red carpet screamed the opposite of fashion.
Stylecaster claimed the star's runway look should've stayed on the runway and listed Madonna as one of the worst dressers to attend the Met Gala. The DailyMail echoed the same sentiment and noted Madonna that she wasn't living up to her "Material Girl" theme and was a complete fashion disaster.
Blake Lively forgot to add technology when designing her dress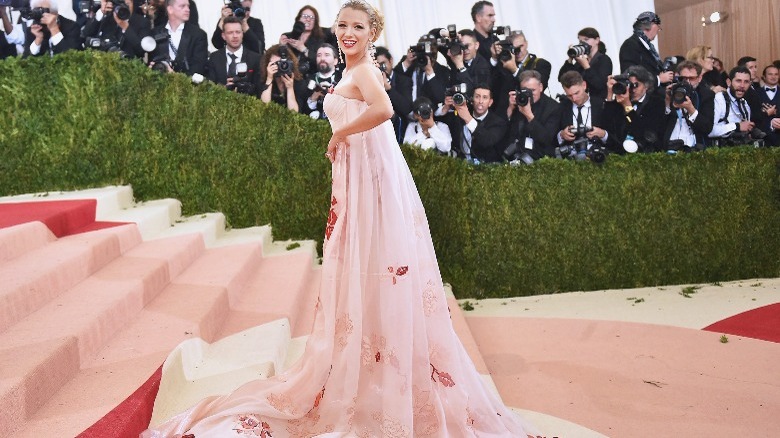 For the 2016 Met Gala, Blake Lively reportedly had a hand in designing her strapless Burberry gown, but it seemed that she forgot to stick to the theme. According to InStyle, "This strapless Burberry gown didn't immediately recall anything about tech in fashion, fitting with the night's theme 'Manus x Machina: Fashion in an Age of Technology.'" However, she did look great, as the publication noted.
Entertainment Weekly also agreed with the outlet, ranking Lively's outfit along with Sarah Jessica Parker as one of the "least on-theme" and wrote that while they thought her Burberry dress was cute, it came nowhere close to following the night's theme. Hopefully, Lively will nail the theme in 2022. She will be front and center as one of th co-chairs for the Met Gala with her husband, Ryan Reynolds, Oscar award-winning actress and director Regina King, and Broadway actor, writer, and producer Lin-Manuel Miranda (via People).
Miley Cyrus' Alexander Wang dress didn't make much sense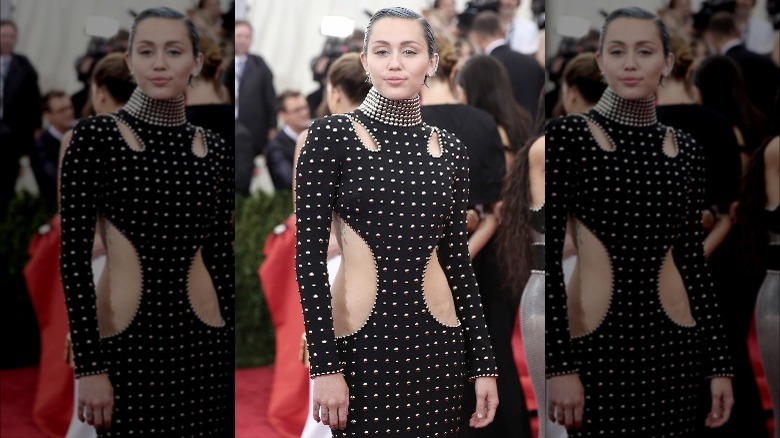 To celebrate the Met's new Asian exhibit, the 2015 Met Gala theme was "China: Through the Looking Glass" (via The New York Times). While there were so many great ways to translate the theme through fashion — as demonstrated by Anne Hathaway, Zhang Ziyi, and Cara Delevingne — some guests apparently decided to just skip it altogether like Miley Cyrus. Hollywood Life and Style reported that her look was a mix between space age and grunge fashion.
Complex also weighed in on the ensemble and compared Cyrus' look to Madonna's '80s style. The singer and actress's look was considered one of the first Met Gala looks of 2015, according to E! News' roundup. The publication shared their distaste for her fashion choice and wrote that her embossed cutout dress by Alexander Wang would have been more fitting two years prior when the theme was "Punk: Chaos to Culture" (via Elle).