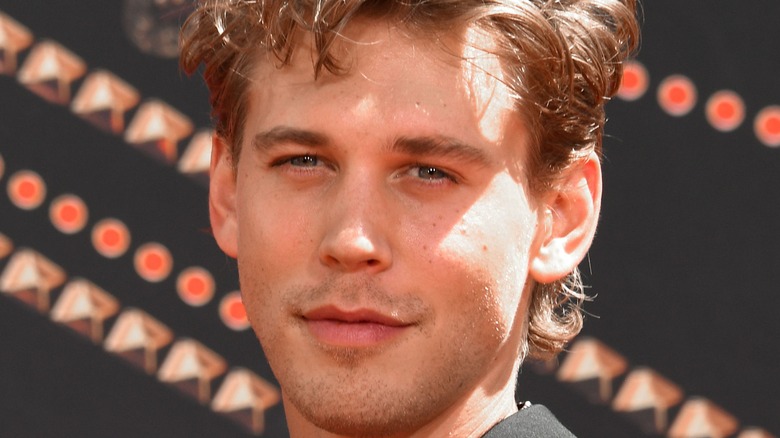 It seems as though every year, a new biopic detailing the lives and legacies of iconic musicians crops up. At first, it was "Bohemian Rhapsody," chronicling the ever-immortalized Freddie Mercury. Just minutes later, "Rocketman" hit theaters, retelling the rise, fall, and rise again of none other than Elton John. Now, the King of Rock and Roll himself is being brought to the screen in Baz Luhrmann's highly anticipated film, "Elvis," starring the dashingly handsome and incredibly talented Austin Butler.
Fans of "The Carrie Diaries" were well aware of Butler's charm, good looks, and acting chops well before he was cast as the iconic rock and roller, but Butler is receiving a new level of attention given the anticipated success of the film. Just from the trailer alone, Butler's impressive on-screen adaptation of Elvis Presley is dazzling, raw, and incredibly moving — it's safe to say that fans are eagerly waiting to run into the cinemas just as Presley's fans clamored around the stage during his performances.
Of course, questions about Butler himself have arisen amid his new echelon of fame, and fans can't help but wonder what romantic interests have been in his life throughout the years. This is the truth about Austin Butler's past relationships.
The Elvis star was briefly linked to Lily-Rose Depp in 2021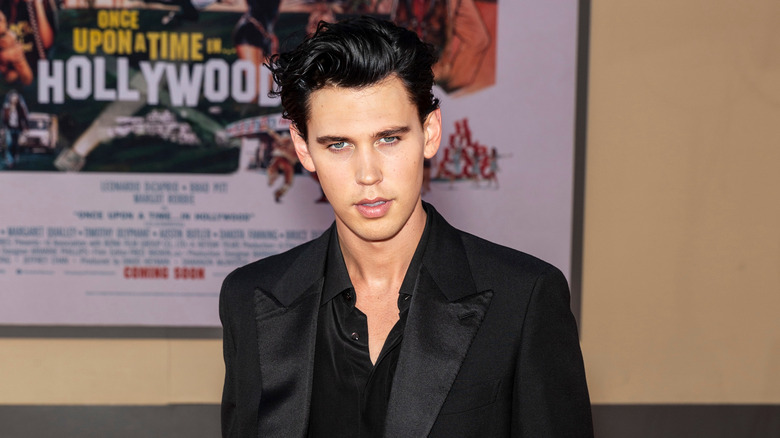 Just one glance at Austin Butler and you're destined to go weak at the knees. We're all here for a new age heartthrob, and it certainly helps Butler's case that he's bringing the king of pelvis action back to life. In any case, the actor has been linked to some incredible talents all their own, and our list starts with none other than Lily-Rose Depp. The daughter of Vanessa Paradis and Johnny Depp, Lily-Rose has certainly stepped into the spotlight over the years as an actor and model — no wonder Butler was taken by her charm.
As noted by People, the pair were spotted in London back in 2021 enjoying a night out together. After enjoying a dinner out on the town, Butler and Lily-Rose were photographed embracing one another, with the lady in question wrapping her arms around the hunky actor. More pics showed the two embracing in a pretty passionate kiss, prompting a lot of us to wonder if and when they'd become official. But the fling was clearly not built to last, and the pair parted ways and never commented on their time together publicly.
Austin was rumored to have a connection with his Elvis co-star, Olivia DeJonge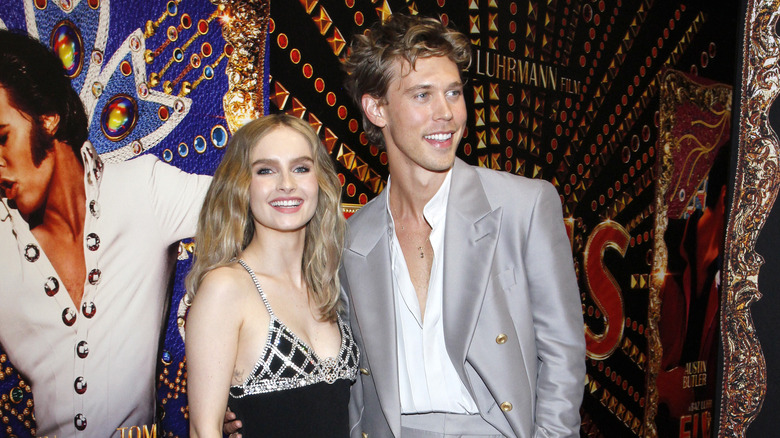 Co-stars falling for each other is a tune as old as time. Just think of the likes of Mila Kunis and Ashton Kutcher, Rose Leslie and Kit Harington, Ryan Reynolds and Blake Lively — these couples are not only Hollywood icons, but they all met on-set. Clearly, movie magic really was happening, and Austin Butler certainly fell into the category himself for a time. Butler and his "Elvis" co-star, Olivia DeJonge, were clearly taken with one another, and dating rumors began to swirl around them. Their short-lived romance saw them going to the movies together in Melbourne, Australia, and even followed them to a beachside getaway on Queensland's Gold Coast.
We can certainly see why the two actors would be smitten with one another. Not only are they young, successful talents, but their two characters — Elvis and Priscilla Presley — fell hopelessly in love on-screen. We can't even watch a movie without falling in love with the leading man, let alone acting alongside them. Despite their on-screen connection, Butler and DeJonge called it quits shortly after their beach getaway. We can only imagine how awkward it was to reunite for the film's press tour.
Austin and Olivia had to turn on the romance on-screen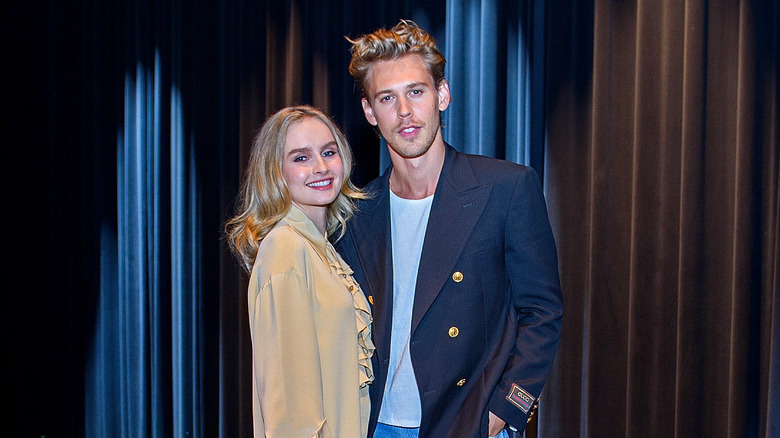 Despite their own love not taking off, Austin Butler and Olivia DeJonge were able to bring an incredible romance to the screen, telling the story of a love that has stood the test of time. Elvis and Priscilla Presley were royals in their own right, and bringing such an iconic couple to audiences across the world was not an easy feat. Of the characters and her co-star, DeJonge confessed that it was amazing to watch Butler "fully immerse himself" into the role — despite their own romance not panning out, the actor had nothing but kind words to say about her ex.
"He's a really hard worker and I was very inspired by the way he tackled the subject matter and the way that he tackled taking on somebody like this," DeJonge said of Butler in an interview with Bollywood Hungama. "It's such a big risk-taking on a role like this and I respect the vigor with which he attacked that. And we had a really fun time." Further expressing her appreciation for Butler, DeJonge said that watching him bring Elvis to the screen was like witnessing "art imitating life imitating art."
"[To] blow it out of the water like he did was truly a really special, unique experience," she said.
Austin Butler and Vanessa Hudgens initially crossed paths in 2005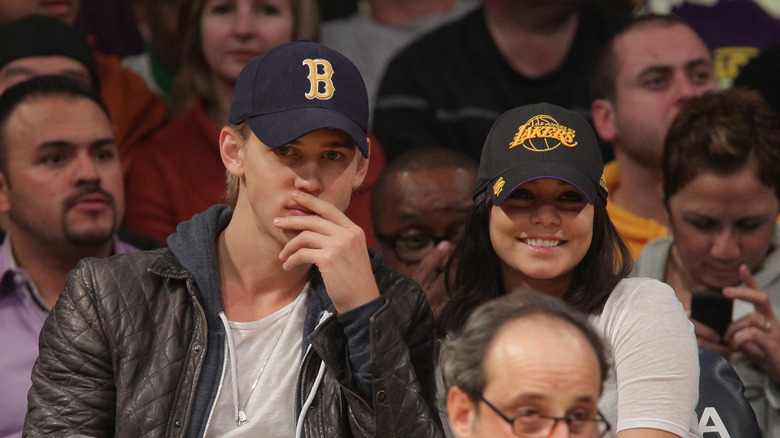 OG fans of Austin Butler — who remember the leading man in "Sharpay's Fabulous Adventure" — know that there's no talking about the dashing actor without talking about Vanessa Hudgens. So not only are we going to dive into their relationship, but we're dedicating six sections to it! Clearly, we're not over their romance.
As noted by PopSugar, Butler and Hudgens initially crossed paths all the way back in 2005. Butler was still making a name for himself within the industry, and was guest starring on the likes of "Hannah Montana" and "Zoey 101" to get himself out there and working. Of course, Hudgens was the leading lady in the "High School Musical" series, and she and Butler met on the titular film's set. Of course, nothing would happen romantically between them for some time, as Hudgens was linked to co-star Zac Efron for a while (RIP Zanessa). But nevertheless, the two clearly made an impression on one another, because their friendship would turn romantic a couple years down the line.
What you may not know about this iconic Hollywood pairing, however, is that Ashley Tisdale was an integral part in their relationship. PopSugar noted that the lady who brought Sharpay herself to the screen initially connected Butler and Hudgens, so we really have to thank this icon for bringing the couple together.
The couple confirmed they were an item in 2011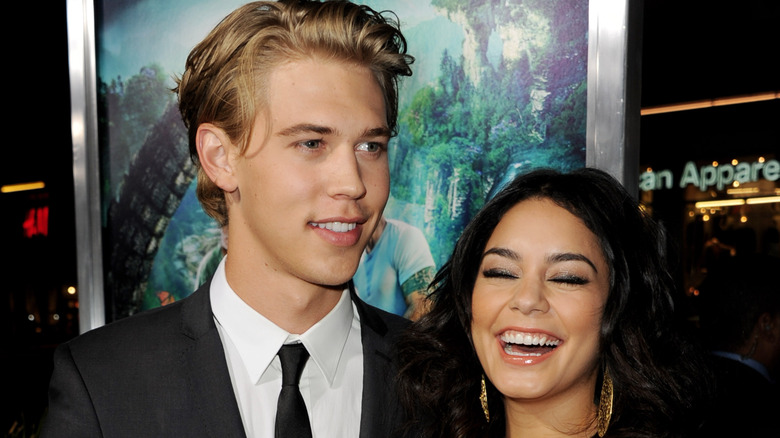 After sparking a connection — though friendship-oriented at the time — in 2005, Austin Butler and Vanessa Hudgens took their relationship to the next level in 2011. As noted by the Daily Mail, Hudgens had recently gotten out of her longtime romance with Zac Efron, and was clearly taken by her new man. The two were spotted in Burbank sharing a meal at Bob's Big Boy diner, appearing to be quite enamored with one another. How could they not be, honestly?
So how did these two cross paths again? As noted by People, mutual friends and group settings enabled the two actors to connect in a low-stakes environment, perfect for then-recently single Hudgens. "They were together but in a large group," a source dished at the time. "They were not doing anything to show that they were really together romantically but they were definitely hanging out and having fun."
Of the new flame, an insider revealed that Hudgens wasn't looking for anything serious, but rather was "having fun hooking up" with the young Butler. "It's a friends with benefits situation," the source said, according to the Daily Mail. Clearly, things progressed from there.
Austin and Vanessa started stepping out together in 2012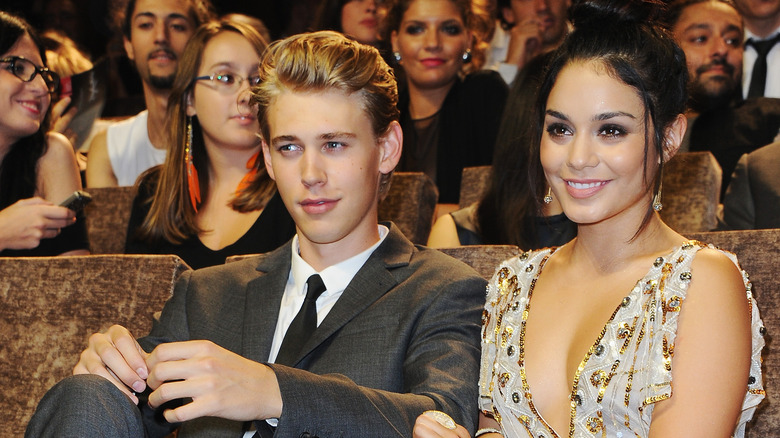 While Vanessa Hudgens may have only been looking for a brief fling, her relationship with Austin Butler continued to blossom with time. By 2012, the pair were starting to step out more and more with each other, with Butler even joining his girlfriend in Hawaii while she was promoting her then-latest movie, "Journey 2: The Mysterious Island." The Daily Mail reported at the time that while Butler did not join Hudgens at the film's Mexico City premiere, he was with her just the week prior enjoying a frolic on the Hawaiian sand — sounds dreamy, right?
Shortly thereafter, Butler and Hudgens started making their presence known on the festival circuit, with People noting that the couple took Coachella 2012 by storm. These were the Coachella days of feathers, denim shorts, and lace cardigans — not the all out fashion show we know today — and Hudgens was clearly the queen of the arena. Of her growing romance with Butler, a source who saw the pair at the Smoke & Mirrors party at the Guess Hotel in Coachella Valley told People, "They held hands the entire afternoon. They were extremely lovey-dovey."
Four years later, they were still going strong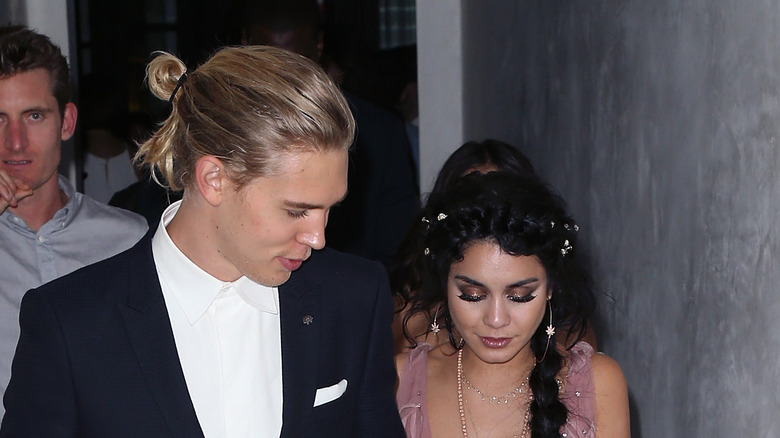 Given that Vanessa Hudgens wasn't looking for anything serious when her path romantically crossed with Austin Butler's, clearly the couple were smitten with one another. After stepping out in public more and more, Butler and Hudgens became something of a Hollywood "it" couple — four years later, they were still very much together and in love. (We should really note that four years in Hollywood might as well be four decades.)
When "Entertainment Tonight" got the chance to chat with Butler in 2015 while attending the MTV Music Video Awards, the outlet of course had to ask him about his relationship with Hudgens and what the secret to their success was.
"I think you just have to — it's important to put that other person first," Butler, who was 24 at the time, said. "If you're constantly looking for ways that you can make them happy, and they're constantly looking for ways that they can make you happy, then you kind of lift each other up as much as possible and you can't go wrong." Be still our beating hearts, because we know what's unfortunately coming for this iconic couple.
They had to make long-distance work, and the actress opened up about its challenges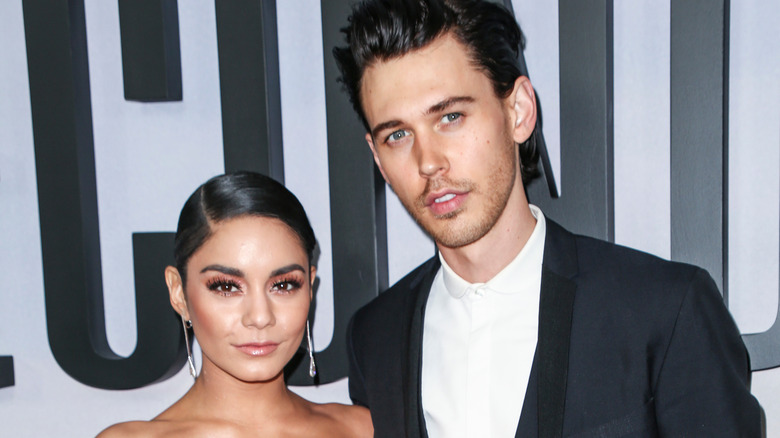 When two actors attached romantically find themselves on opposite sides of the world working, you'd think that they'd most likely just call it quits — but not Austin Butler and Vanessa Hudgens. Years into their relationship, the two actors did end up in completely different countries, but they did what they needed to do to make their romance stand the test of distance. As noted by People, Hudgens was in New York given her work with "Bubble Witch 3 Saga," whereas Butler was working on Season 2 of MTV's "The Shannara Chronicles" all the way in New Zealand. Entire oceans, immense time differences, and longing stood in the way of this couple, but they didn't let those hurdles trip them up.
People asked Hudgens at a pop up event in New York how she and Butler were making their relationship work, and she boiled it down to one aspect: communication. "Communication is key," she said. "I think that if anything's bothering you, don't hold it in. Always bring it up and just talk about it. Uncensor yourself and just be open." Of course, that didn't stop the couple from missing each other, and Hudgens even took to social media with a cute snap of her man with the caption, "Missing this guy. #mcm #longdistancesucks."
After nine years of dating, Austin and Vanessa called it quits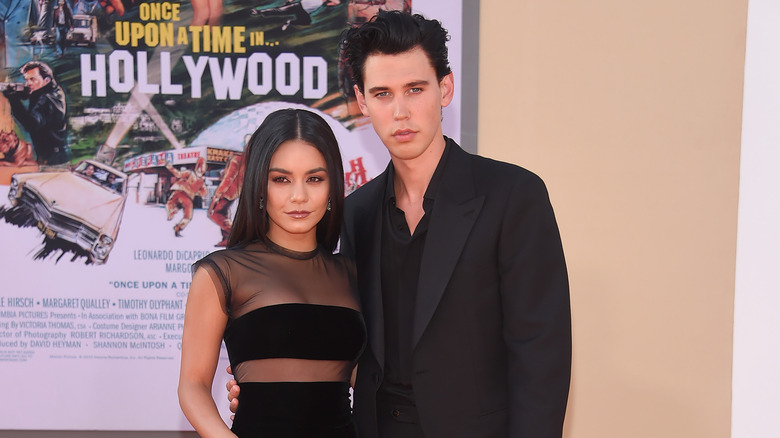 Be still our shattering hearts. After nine years together, Vanessa Hudgens and Austin Butler officially closed the book on their relationship — and to be honest, we're still not over it. An insider revealed to Us Weekly in January 2020 that Hudgens had been letting those closest to her know about the breakup, as rumors were swirling around the couple and the distance that had become apparent between them. Us Weekly noted at the time that Butler and Hudgens didn't spend the holiday season together, nor did they get together to celebrate Hudgens' December birthday. The absence clearly got people talking, and the news of their split was confirmed shortly thereafter.
So what made a couple — who had been together for so long, not even just by Hollywood's standards — split after so many years? A source told E! News that given their dueling schedules and busy careers, they simply had to call it a day. "They're just shooting on two different continents and it's a matter of distance," the source said, as Butler had just been cast in "Elvis" and Hudgens was filming "The Princess Switch 2." "There is no bad blood at all, and they have a lot of respect for each other."
The actor was initially linked to Kaia Gerber in December 2021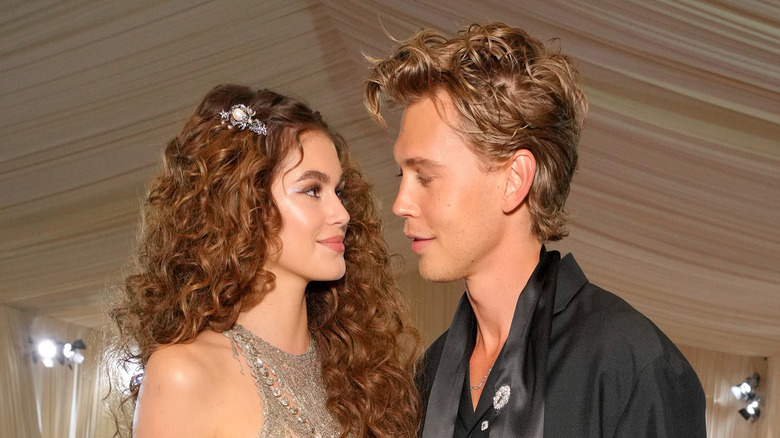 We'll give you a second to recover from what is the absolute heartbreak of Vanessa Hudgens and Austin Butler's break-up. OK, ready to move on? Butler clearly was, because he shortly became linked to model and up-and-coming star Kaia Gerber. Gerber, as noted by People, had been dating "Euphoria" star Jacob Elordi for more than a year, but the two had called it quits in November 2021. Just two months prior, Gerber and Elordi had made their red carpet debut at the opening gala of the Academy Museum of Motion Pictures, leading many to believe that they would become the young Hollywood "it" couple. Clearly, they didn't stand the test of time — just one month after their split, Gerber was ready to step out with a new man: Butler.
People noted that the model and actor were seen walking around Los Angeles together following a joint yoga class (if that doesn't scream California-cute, we don't know what does). The new couple — who have a 10 year age gap — were spotted wearing casual outfits and face masks (given the COVID-19 case surge at the time), so as far as celebrities go, these two were a little incognito.
Kaia Gerber opened up about reevaluating her personal life amid her relationship with Austin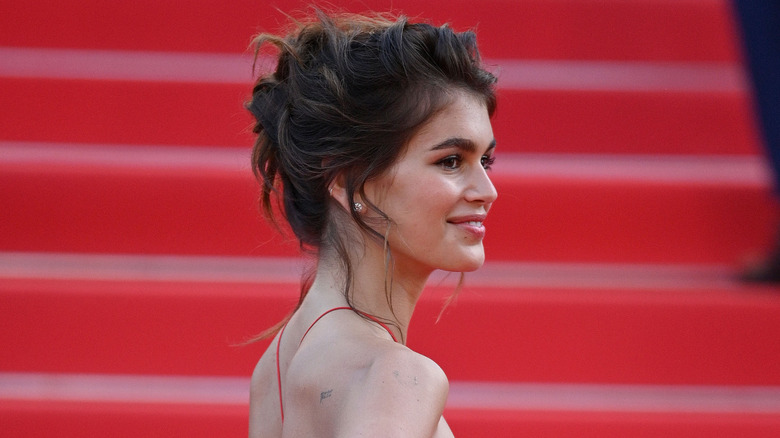 The COVID-19 pandemic forced so many of us to look internally and take stock of our lives. With so much unpredictability, chaos, and sickness surrounding us on a daily basis, it was hard not to take a good look at life and say, "Is my current situation serving me?" Cue the mass resignations and revaluing of daily life, and Kaia Gerber was right in that mix with us. Speaking to People in an exclusive interview about her life amid the pandemic, the model was choice with her words, but shared a little bit of insight into her changing perspective and relationship with Butler — although she didn't drop his name.
"I think it's made me reevaluate my personal life a lot more," Gerber told People of the pandemic. "I think, it's so important people are realizing how important their happiness is outside of work, when you don't have all these outside resources to gain happiness from, where that internal happiness comes from."
The supermodel and daughter of Cindy Crawford and Rande Gerber clearly had done some reflecting, and perhaps her blossoming relationship with Butler was expanding her mind to new possibilities.
The newly minted couple hit the Met Gala together in 2022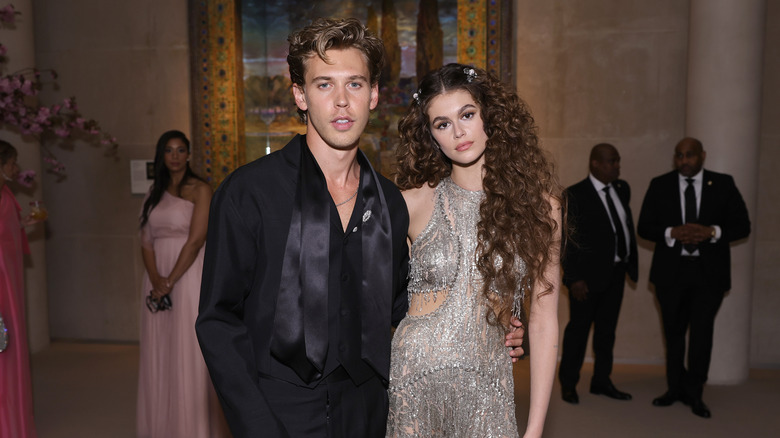 We're all here for a new couple alert, and Austin Butler and Kaia Gerber made themselves known during the 2022 Met Gala. The "Gilded Glamour" theme — while interestingly interpreted by some — was mastered by Gerber, who turned up on the carpet in a gorgeous Alexander McQueen gown, as noted by Harper's Bazaar. Of course, Butler hit the scene with the cast of "Elvis," director Baz Luhrmann, and Priscilla Presley herself, and the suave energy was just dripping off Butler — he knew he was the leading man on the scene.
While the couple didn't walk the carpet together, Butler and Gerber reunited at the top of the Met steps — which just sounds like a scene out of "Gossip Girl." Harper's Bazaar further detailed that while the public moment between the couple was "rare," they looked rather smitten with one another. Of course, how could they not? As for his Met Gala look, Butler went with an all Prada ensemble, landing GQ's title of king of the red carpet. We concur.
Kaia supported Austin during the Elvis film premiere in Cannes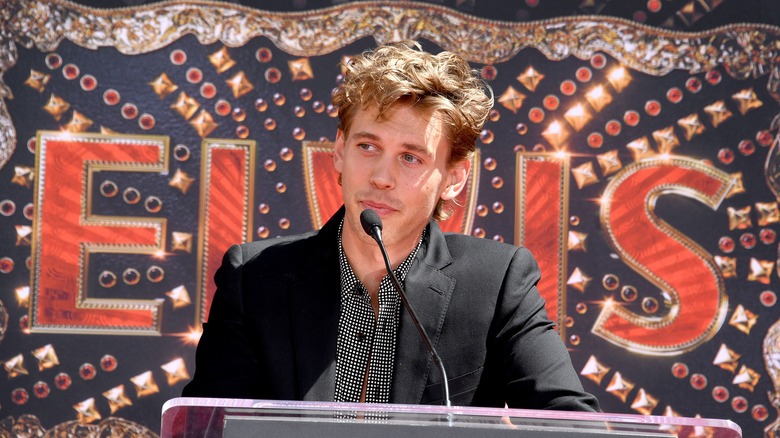 To say that Austin Butler is taking the world by storm with his performance in "Elvis" is an understatement, but that doesn't mean that he hasn't needed a team of supporters behind him for the ride of a lifetime. As noted by People, Butler was joined by girlfriend Kaia Gerber during the Cannes Film Festival, where the seminal film premiered for the first time. Not only did Gerber look stunning at the premiere in a custom Celine gown, but she was right behind Butler as he took center stage — and perhaps in a nod to his girlfriend, Butler also wore a custom Celine tuxedo. The couple didn't walk the carpet together, but just knowing that his love interest was there in attendance must've meant the world to the rising star.
Of course, the support of loved ones is always ideal, but Butler received quite an unprecedented amount of praise as the Cannes premiere of "Elvis" came to a close. Deadline noted that after the movie concluded, the crowd at the Palais theater immediately jumped to their feet and gave Butler, the cast, and director a 10-minute standing ovation. Deadline reported that this was a record for the 2022 festival, marking just how much of an achievement "Elvis" was.
The actor made a rare comment about his ex, Vanessa Hudgens, in 2022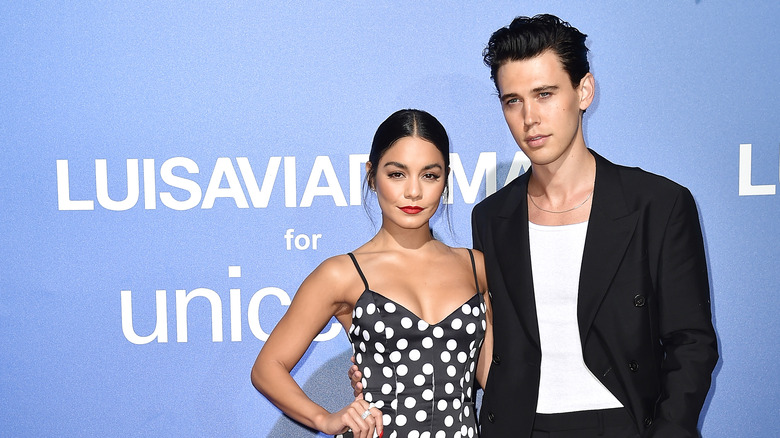 For all the attention he has garnered over the last year due to his career-defining performance in "Elvis," Austin Butler hasn't been particularly vocal about his personal life — we can't blame him, because after all, one's personal life is just that: personal. However, in a sit-down with GQ ahead of the "Elvis" release, the actor did shed a little bit of light on his breakup with longtime girlfriend Vanessa Hudgens, although it clearly wasn't comfortable territory for the actor.
During the interview, GQ asked the actor what it was like to go through such a significant breakup, all while filming "Elvis." He was a bit cagey on the details, but said the following: "Life is full of changes, and you've got to find a way to constantly be evolving and growing." Paiella noted that the "non-answer" was "polite," but that was as far as he'd comment.
So will Butler and his current girlfriend (as of publication) Kaia Gerber last a Hollywood lifetime? Only time will tell.