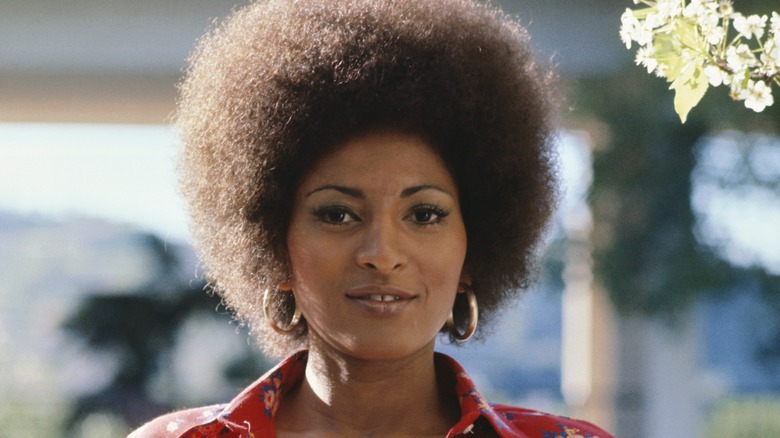 It's no secret that 1970s trends have been resurfacing in the past few years. In fact, celebrities like Bella Hadid and Kendall Jenner have been rocking '70s trends like flared pants, crochet tops, and clogs just in the past few weeks and months, per Glamour. Along with the re-emergence of these styles has come the growing popularity of '70s hairstyles. In the early part of 2021, Farrah Fawcett's feathery waves became the subject of many tutorials on TikTok, thanks in large part to influencer Mallor Jade who created a tutorial on the platform, according to Popsugar. Even singer Ciara rocked the Farrah Fawcett hairstyle on her Instagram profile at one point.
Apart from Farrah Fawcett's signature hairstyle, other '70s hair-related trends, like face-framing boho braids, have been sported by celebrities like Hadid of late (via Glamour). Apart from braids and voluminous waves, other '70s hairstyle trends like natural afros, retro scarf updos, eyebrow-skimming bangs, and glamorous headbands have made a resurgence in the past year, per IPSY. Are the '70s trends here to stay? We sure hope so. For those looking to recreate these '70s hairstyles, we have provided detailed instructions on how to create the three most popular hairstyles from that infamous decade.
Farrah Fawcett's bombshell waves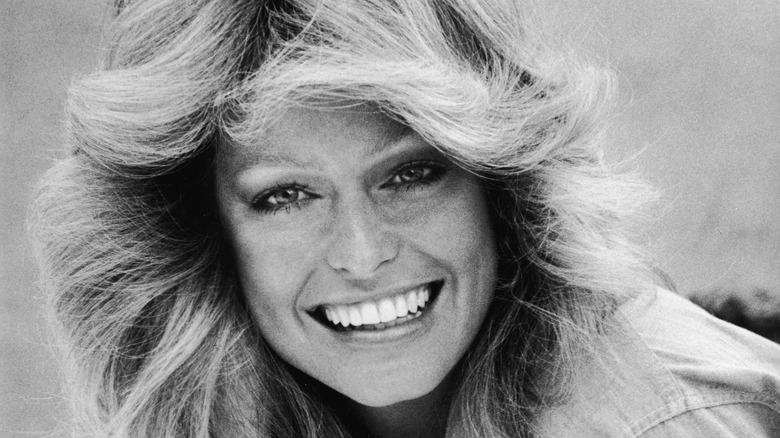 If you've ever seen the famous poster of Farrah Fawcett in a red swimsuit, you've likely caught a glimpse of the actor's iconic bombshell waves. Throughout the 1970s and well into the '80s, women all over the world styled their hair to have the same big waves, movement, and volume that Fawcett rocked during her appearances on "Charlie's Angels" from 1976 to 1981. "These long, brushed-out waves and flicked curtain bangs are most definitely my favorite (but so was the shag haircut)," celebrity hairstylist Cynthia Alvarez told IPSY. "The movement of all the layers makes for a great style!"
To get Farrah Fawcett's bombshell waves, Alvarez suggests prepping your hair with a flexible-hold hairspray before completely brushing out your hair, and then curling your hair away from the face with a two-inch barrel curling iron. If you have bangs, curl them toward your face, flick out the ends, and use your fingers to shape them to contour your forehead. Then, brush out your curls after they have cooled down and set your hair with a bit more hairspray.
The natural afro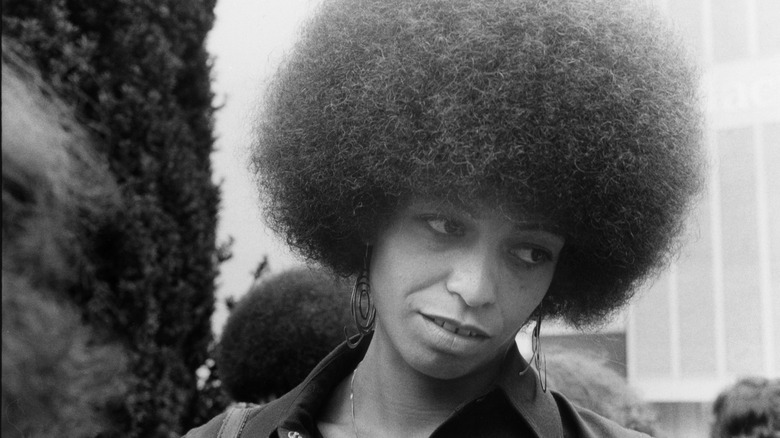 Sometimes, a hairstyle holds more significant meaning than one might realize. Case in point: The natural afro. Beginning in the 1960s and gaining even more prevalence in the 1970s, the natural afro hairstyle became one of the many iconic symbols of the Black civil rights movement, according to Byrdie. Celebrities like Diana Ross and civil rights leaders like Angela Davis often sported the natural afro in the '70s as a symbol of Black self-acceptance.
To craft a natural afro that even the disco queen herself would applaud, you must first wash your hair with a volumizing hair care system. Then, according to All Things Hair, you'll need to let your hair air-dry or blow it dry and, after it's dry, pick the hair out until it is the height which you desire for your afro. After picking out your hair, simply set it with a flexible-hold hairspray to ensure that the hairstyle has staying power.
The silk headscarf updo
Though celebrities and common folk alike have adored silk headscarves for centuries, the specific silk scarf updo, which consisted of voluminous hair and printed scarves, did not gain popularity until the 1960s and '70s. During that time period, celebrities like Bianca Jagger, Lauren Bacall, and Faye Dunaway epitomized the chic trend, according to CR Fashion Book.
As Alvarez detailed for IPSY, achieving this look is relatively easy. First, you'll need to pull your hair back into a half-up ponytail. Then, take your square-shaped scarf and fold it down until it's approximately three inches wide. From there, you will clip all of your hair up so that it is out of the way while you position the scarf so that it is aligned with your center part. Finally, tie the scarf at the nape of your neck, unclip your hair, and spray your hair with a mist to give it a bit of shine.